Packaging
If you bag it, they will eat
Secondary packaging typically is associated with behind-the-scenes activity, but a Long Island company is demonstrating the effectiveness of secondary packaging in making school breakfasts more appealing to children.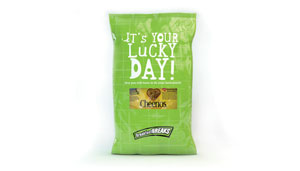 Kid-friendly colors and a rotating lineup of text messages were developed by a children's marketing agency to make Breakfast Breaks more appealing to school children. Source: ES Foods.
Woodbury, NY-based ES Foods is a school foodservice supplier, delivering preassembled meals for distribution to students who qualify for USDA's school nutrition program. "The school breakfast program is tremendously underutilized," notes Gary Davis, with fewer than half the eligible students participating. Logistics is part of the problem: Few cafeterias are large enough to accommodate all their students in a single seating. One solution is grab-and-go meals that can be eaten in the classroom. Firms like ES Foods assemble those meals and distribute them to schools throughout the continental US and Alaska.

To encourage more school involvement, Davis created the "got breakfast?" Foundation in 2005, with the blessings of the California Milk Processor Board, licensor of the "Got milk?" catch phrase. "They love us," he says, as does the National Dairy Council, which supports any program that encourages more milk consumption by children. The efforts of hunger-relief non-profits—notably Share our Strength, Food Research & Action Center (FRAC) and, to a lesser extent, the "got breakfast?" Foundation—have significantly expanded the number of children participating in the USDA program and, not coincidentally, grown the market for ES Foods' preassembled meal bags. In 2005, when the foundation was established, about 6 million children received school breakfasts, Davis says. Last year, an average of 9.8 million was served each school day, a FRAC report indicates. (An estimated 20 million children are eligible for USDA's program.)

Assembly of ES Foods' breakfasts is outsourced to two copackers in New York and Chicago. Working with a machinery OEM—"don't ask me which one," Davis says preemptively—the firm developed automation equipment "that could give us the line speeds we need," then located the machinery at copackers' facilities. Some of the assembled meals include yogurt, but typically they consist of shelf-stable products, including a protein (usually cheese sticks), an ounce of grain (typically a single-serve cereal box), a second ounce of grain (muffin or snack bar) and a 100 percent-juice pouch. The assembled breakfast is supplemented onsite with a carton of milk.

Davis refutes the notion his Breakfast Breaks create waste. "Waste is greatly reduced," he says, "and having the colorful package definitely supports consumption." Labor accounts for half the average cost of $2.05 for a school cafeteria breakfast, he adds, and pre-assembled meals significantly reduce labor cost, enabling schools to serve more meals. ES Foods also has cut the amount of packaging materials it uses by more than half, switching from a paperboard box and juice boxes to flexible film and juice pouches.


For more information:

Gary Davis, ES Foods, 866-786-9028








I want to hear from you. Tell me how we can improve.