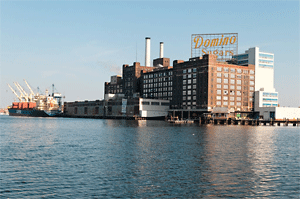 Domino sugar plant at Baltimore's Inner Harbor: Source: Domino.
Baltimore's Domino Sugar refinery has set a new record by receiving the largest, single raw sugar shipment delivered to any port east of the Mississippi River. The inner harbor's refinery received more than 95 million pounds of raw sugar, just six seeks short of the plant's 90th birthday.
"The significance of this event is hard to overstate," says Refinery Manager Stu FitzGibbon. "In these difficult times for American manufacturing, Baltimore's Domino cane sugar refinery has proven it is thriving as a world-class competitor. By utilizing our employees' experience and dedication, we have been able to increase production while reducing major costs such as energy. As a result, the plant has been able to stay competitive and continue to provide good-paying jobs and local economic activity in Baltimore."
M/V Simon Schulte delivered the raw sugar. This vessel is more than 600-feet long and 100-feet wide. The massive ship is more than 100 feet longer than the usual cargo vessels that deliver sugar to the refinery.