Food Safety
TECH FLASH
GE pig gets the axe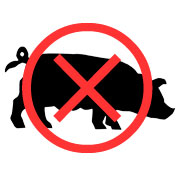 Key backers of Canada's Enviropig project withdrew support for the genetically engineered animal, as there were fears that Canadian consumers would not trust any pork products, suspecting they might be genetically engineered, according to a recent Reuters Canada story. Based on the Canadian action, the Center for Food Safety (CFS) is calling on FDA to stop any work on approving a GE pig in the US.
According to CFS, the Enviropig was engineered using genetic material from a mouse and an E. coli bacterium to reduce phosphorus in the pig's feces. The University of Guelph began its GE pig research in 1955 and requested food safety approval from regulatory authorities in Canada and the US in 2009. While Canada approved the reproduction of GE pigs in February 2010, no government has approved Enviropig for human consumption, and no GE pigs have been sold commercially. CFS reports that the Canadian hog industry group, Ontario Pork, has redirected its funding away from GE pig research. Lacking the funding, the university is ending its program.
Last year, Olymel, a Quebec-based pork processor, announced it would not sell meat from Enviropigs even if the animals were approved for marketing. "The US government should quit wasting taxpayer dollars on what amounts to an engineered sham for the hog industry," says Andrew Kimbrell, CFS executive director. "Consumers have made clear that they don't want to eat genetically engineered animals. The FDA should stop its review of this GE pig immediately."


I want to hear from you. Tell me how we can improve.