America's transition from traditional food and beverage containers to flexible pouches has moved at glacial speed, though sustainability efforts that seek to reduce packaging's cost and weight have helped spur adoption in recent years. Opportunities to test drive a pouch remain few and far between, however, an issue a pouch converter and copacker are addressing.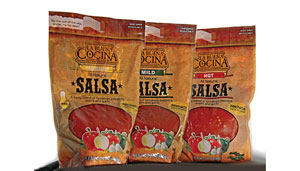 After converting its salsa line to flexible pouches, a Phoenix copacker forged a comanufacturing partnership with its supplier. Source: EnVision Flexible Packaging Inc.
Liesl Harder-Kielp, a packaging consultant who founded EnVision Flexible Packaging Inc. in 2005, recently launched the FastTrak FlexiPak program in partnership with Coyote Kitchen Inc., another Phoenix firm that copacks condiments, salad dressings and other food products, including its own brands. FastTrak will help food companies design and test flexible pouches filled on a benchtop filler, then shift production to Coyote Kitchen for larger trials and full rollout.
The first trial involves a Coyote brand called La Buena Cocina, a salsa and dressings line that previously was sold in bottles. A Wisconsin supplier converts the pouches  from printed film, then ships them to Coyote for use on a commercial-scale filler. Performance tests and certifications are secured in EnVision's labs prior to that.
"The combination of a pouch supplier and a comanufacturer really didn't exist before, but it needs to exist," Harder-Kielp insists. Unlike canning, which enjoys a well-developed infrastructure of machine builders and canneries, flexible packaging suffers from a fragmented supply base and poor promotion of alternative packages. "Pouch filling is a costly investment," she points out. "We have a good number of US pouch makers; we just don't have the contract manufacturers we need filling the pouches."
The quick turnaround possible with a turnkey solution is exemplified by the first products to be filled. While La Buena Cocina salsa is selling well in dollar stores, Harder-Kielp says the second pouch order is being modified to eliminate a zipper closure and replace it with a spout, an on-the-fly modification facilitated by FastTrak's one-shop approach. 
For more information:
Liesl Harder-Kielp, EnVision Flexible Packaging Inc.,
480-626-4883, lkielp@envisionfp.com