New Products
Technology Sourcebook
Solid deck pallet
With a solid top that produces unilateral support across the full plane of the pallet's surface, the Polymer Solutions ProStack solid deck pallet completely supports all products through transport and storage. Its telescoping double-leg design incorporates a series of interlocking "teeth" that secure the top deck to the base via the interlocking legs; the double-leg construction forms nearly half an inch of damage protection.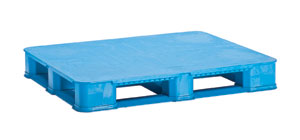 Measuring 40 x 48 x 6.3 in. and weighing 49 lbs., the pallet is rated for a 30,000-lb. static load or a 5,000-lb. dynamic load. Edge-rackable to 2,200 lbs., it offers 4-way fork entry for use in food processing, beverage and warehousing applications. The pallet is made from 100% recyclable, FDA-approved HDPE.
Polymer Solutions International, Inc.; 877-444-7225; www.prostackpallets.com


I want to hear from you. Tell me how we can improve.