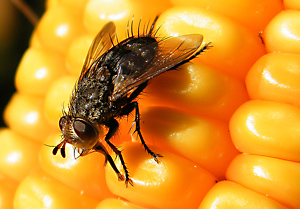 With FSMA on the books and GFSI audits increasingly being demanded by retailers, food processors not only have to worry about allergen and microbe control, but also need to be concerned about the presence of unwanted animal and insect pests. Professional pest management companies can help processors develop and manage HACCP programs that include keeping the critters out, according to Paul Curtis, director of national accounts service quality for Terminix Commercial.
Pest management services can identify the requirements for preventing pest access to the site; provide guidance for monitoring and controlling of pests; create documents of preventative actions; identify actions required when an infestation occurs; provide trending, analysis and historical data; and provide training on pest, sanitation and facility-related compliance.
Curtis suggests the best way to prevent a pest problem is by keeping pests out, but processors must realize this is an ongoing program involving both management and staff. He outlines four major steps to take:
1. Seal all entry points. A pest control specialist should thoroughly inspect each location to identify entry points pests may be using and seal all openings.
2. Move products away from walls. This will help to prevent pests from coming in through unidentified cracks or holes in exterior walls, and allow room for inspection and controls.
3. Work with loading and receiving staff. The loading dock is often the entry point for pests. Pest control consultants and facility management should coach the staff in its role of preventing entry by keeping the doors closed and sealing other entry points.
4. Make necessary structural adjustments. After a thorough inspection, some recommendations may include moving dumpsters away from the building, creating a sanitation line on the exterior of the structure, adjusting outdoor lighting so it doesn't attract insects and consulting with landscapers to avoid planting vegetation next to the building.
"Maintaining detailed and accurate reporting can be vital to a quality pest management program, and it is required for inspections," says Curtis. "When preparing for inspections, it's always best to schedule an appointment and review inspection requirements with your pest control professional close to the actual inspection date." Managers should review their records and make sure they have all the necessary pest paperwork available electronically or in their logbooks. This information typically includes licensing from the pest control provider, MSDS (material safety data sheets) and product labels, service records and tickets, historical service trends and recommendations, a copy of the contract and scope of service and a citing log with management notes to the pest control provider detailing any issues found between services. Curtis recommends having the pest control professional available either on site or via phone during inspections.
"When managing multiple locations, it's critical to have reporting solutions that enable executives to access pest control files from on- or off-site locations," adds Curtis. Technology enhancements in reporting capabilities also help keep on- and off-site managers informed to recognize trends and understand the history of issues, better enabling them to make the important decisions that affect the business. New technology enhancements include online account centers where data is available at any time, bar coding technology to allow real-time reporting of data and customized reporting that allows managers to provide inspectors with real-time reporting and consistent reporting from multiple locations.
When facing food safety audits, the pest control portion can mean the difference between passing or failing an inspection.
For more information: Paul Curtis, 901-597-2015, or visit the Terminix Commercial website.