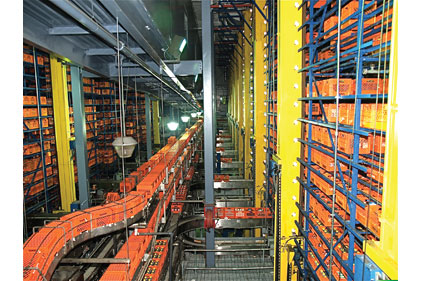 Wawa's 35-foot, chilled high-bay achieves a high density of space utilization. Mini-load stacker cranes move crates in and out of the 80,000-crate capacity high-bay. Source: Swisslog.
DC sports a high-bay AS/RS that moves 42,000 crates of liquid products daily with a 99.9 percent accuracy rate.
Wawa is well known throughout the mid-Atlantic states. But with 400 million customers annually, keeping its dairy convenience stores stocked presents a serious logistics challenge. Nowhere is this challenge more critical than with the warehousing and distribution of its fresh liquid milk products. Milk must be distributed within days. Some of Wawa's milk products are moved through its distribution center (DC) and shipped within a few hours after being filled and packaged. 
However, achieving this level of throughput became increasingly difficult as Wawa's business expanded. The company's products were being produced, staged on the warehouse floor and quickly shipped to make room for milk, teas and juices that were coming off the line. But the manually operated, chilled warehouse had surpassed maximum capacity, and was running out of floor space to stage products. 
"The challenge was where to put the product," says David Mann, manager of Wawa's beverage warehouse. "Where do you store it? Basically, the plant would produce to ship. It wouldn't ever produce more than could be shipped over the next day."
It was time to make a change. Several years ago, Wawa brought in Swisslog Warehouse and Distribution Solutions to engineer and install a system that would meet the company's demanding requirements. Swisslog put into place a streamlined, highly automated storage and retrieval system (AS/RS) with 16 mini-load stacker cranes that would provide adequate storage capability and ensure timely, accurate handling of all of Wawa's liquid products. 
The solution focused on building a high-bay, refrigerated warehouse serviced by 16 high-speed, AS/RS mini-load stacker cranes that move crates in and out of the 35-vertical-foot, high-bay racking. The high-bay AS/RS receives crates filled with milk, teas and juices from upstream production, stores up to 80,000 crates in the refrigerator, then selects and releases crates to fill pick orders for shipping—all with no human intervention.
Since the installation, the AS/RS has had ongoing upgrades to maintain its performance and efficiency. Operating 20 hours per day, six days a week, the cranes run almost continuously, with virtually no loss of performance. Wawa maintains one Swisslog technician per shift on-site to ensure the cranes and warehouse management system (WMS) are operating at peak performance and to regularly implement system upgrades.
The new system maximizes building volume and has increased cost efficiency on a much smaller footprint. The AS/RS can automatically handle 42,000 crates of liquid products daily (2,400/hr.), operating with a system uptime rate exceeding 99 percent and an order accuracy rate topping 99.9 percent, while functioning in a chilled 35°F environment.
The WMS is integrated with Wawa's ERP to monitor and streamline orders automatically straight through to shipping. "The high-bay and automation have enabled us to do larger runs," explains Mann. "And we do fewer runs of product because of the additional storage.
"After many years of usage, the Swisslog mini-loads and WMS are still performing very well," continues Mann. "We have done numerous upgrades on the systems. The uptime on the equipment is outstanding." 
For more information: