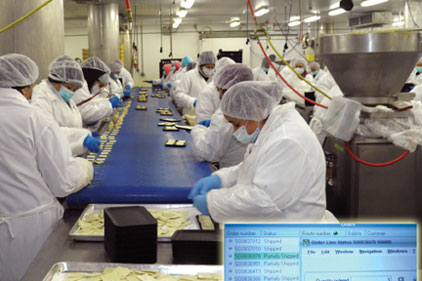 A production line produces Mexican food at RM Foods. Inset: The Sage ERP X3 order screen is used to check the status of orders. Source: Sage Software, Inc.
RM Foods, a nearly 50-year-old food and beverage manufacturer and distributor, has grown from a supplier to restaurants, El Torito and Acapulco, to a much larger customer base that now includes retailers and bigbox stores such as Trader Joe's, Costco, Sam's Club and Whole Foods. With 300 employees operating from three locations, RM Foods maintains a bustling operation, which required a flexible ERP system able to support an expanding, complex business.
The company implemented Sage ERP X3 when it became apparent to the RM Foods management team that the company had outgrown its accounting application. "Our old system made even routine tasks cumbersome, so it was easier to outsource them," explains Michael Siegmund, president of RM Foods. "The old software was poor at handling our accounting tasks and was incapable of addressing our manufacturing requirements.
"We hired a consulting team to help us evaluate our options, and Sage ERP X3 came out the winner," adds Siegmund. "Sage ERP X3 has a clean intuitive interface, a solid reputation in the process manufacturing industry and is backed by a strong and reputable company.
"Our implementation plan was carefully designed," says Siegmund. "We are rolling out components of the software in phases, and it's working extremely well for us. Our accounting department was up and running on Sage ERP X3 in just three weeks."
Consultants from Sage assisted with the implementation, resulting in a smooth transition of the first phase that was on schedule and under budget. Its rapid implementation and out-of-the-box functionality prompted a quick return on investment.
At any one time, RM Foods can have as many as 20 products in production. This results in a tremendous amount of production data for which to account. "We were limping along before," says Siegmund. "Now we are able to leverage our production data to our advantage. We are using automated notifications, queries and both standard and custom reports to deliver real-time data to those who need it."
The benefits of the new ERP system to RM Foods' process manufacturing operations were immediate and substantial. "We have much better visibility into—and control over—our production," says Siegmund. "From product costing through stock status and purchasing, Sage ERP X3 has enabled us to improve accuracy and efficiency."
While the ERP software is readily configurable and tailored to meet individual company needs, the processor found the software addressed its needs right out of the box. That was important to Siegmund, who didn't want to have to customize an application.
Orders from the processor's restaurant customers come in through an electronic data interchange (EDI) interface tightly integrated with the new ERP system. Orders are validated and imported into the system automatically.
For more information:
Denise Dillon, 866-530-7243, sageerpsolutions@sage.com