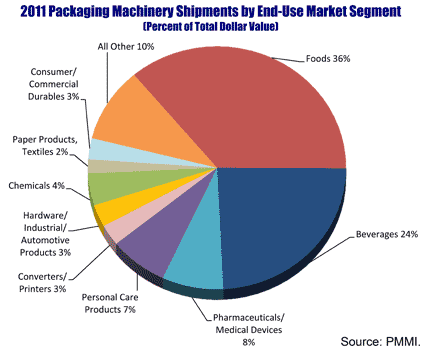 The food and beverage industry commands 60 percent of packaging machine shipments. Source: PMMI.
Domestic shipments of US packaging machinery increased 19 percent to $7.7 billion in 2011, while US packaging machinery consumption, including imports, jumped by 23 percent to $8.8 billion, according to PMMI's 2012 Shipments Study. The data is based on statistics supplied by 187 PMMI members and estimated numbers from non-member shipments.
"2011 was a year of significant shipments growth for our industry powered mainly by the release of the pent-up demand from the past three years," says Jorge Izquierdo, vice president of market development, PMMI.
The report also provides good news for the packaging industry and the economy:
Exports of packaging machinery increased 16 percent to $686 million.
Imports of packaging machinery increased 35 percent to $1.787 billion.
Foods (36 percent) and beverages (24 percent) account for the majority of sales to end-use markets, while pharmaceutical and personal care products make up 8 and 7 percent, respectively.
Backlog orders of packaging machinery dollar shipments in 2011 increased by 28 percent compared to backlog orders at the end of 2010.
For more information on the report, visit PMMI.org/research.