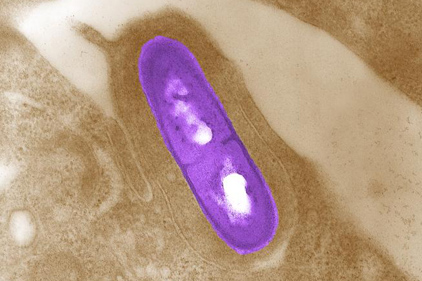 Electron micrograph of a Listeria bacterium in tissue. Source: CDC/ Dr. Balasubr Swaminathan; Peggy Hayes.
FSIS Notice 59-12, Notification of Revised Listeria Guideline Availability, is intended to update inspection program personnel (IPP) and enforcement, investigations and analysis officers (EIAOs) concerning Listeria monocytogenes in post-lethality exposed RTE meat and poultry products. The revised compliance guideline replaces previous versions of the guidance, which was last updated in 2006.
The revised compliance guideline provides specific recommendations establishments producing post-lethality, exposed RTE meat and poultry products may follow to meet the requirements of 9 CFR part 430, Requirements for Specific Classes of Products—also known as "The Listeria Rule." The document also provides information on sanitation, testing for Listeria and the prevention of cross-contamination of post-lethality RTE meat/poultry products.
The revised guidance provides the following:
1. Simplified information establishments can use to meet the requirements of the Listeria Rule
2. Updated information on antimicrobial agents and post-lethality treatments that establishments can use to produce safe products
3. Expanded information on establishment sampling and testing for Listeria spp
4. New information on identifying and addressing Listeria spp trends.
The document can be downloaded from USDA/FSIS website.