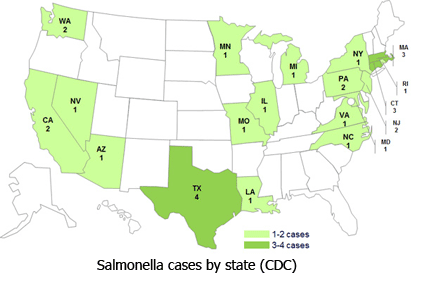 Persons infected with the outbreak strain of Salmonella Bredeney, by State on 24 September 2012. Source: CDC.
A total of 35 people from 19 states have been infected with an outbreak strain of Salmonella Bredeney, which has been attributed to peanut butter and other products containing nuts and seeds from Sunland, Inc., according the Centers for Disease Control (CDC). Four individuals have been hospitalized, but no deaths have been reported.
Sunland issued a voluntary recall of its almond butter and peanut butter on September 24, and the recall has been expanded to include cashew butter, tahini and roasted blanched peanut products. The recall is limited to products manufactured between May 1, 2012 and September 24, 2012.
Caroline Smith DeWall, food safety director at the Center for Science in the Public Interest (CSPI) blames the FDA for its lethargy in fulfilling  FSMA's deadlines for issuing rules and regulations to reduce the toll of foodborne illness.
The deadlines that have been missed, according to Smith DeWall, are:
On January 4, 2012, the deadline for a rule telling retailers how best to alert consumers to recalls in supermarkets
On July 4, 2012, the deadline to issue rules requiring preventive controls and food safety plans at manufacturing facilities
Also July 4, the deadline for publishing a "how to" guide for retailers to quickly print pertinent recall information for posting at their supermarkets.
"Deadline after deadline has come and gone with the agency taking no action, leaving consumers vulnerable and industry without guidance. Peanut butter and other foods are no safer than they were at the beginning of the President's term," says Smith DeWall.
According to David Plunkett, CSPI senior staff attorney, food safety, putting a rule and/or guidance out for retailers to follow should not be a big issue for FDA. Many retailers would like a set of standard procedures, guidelines and a form for posting a sign or notice in their stores. Some retailers already have customer loyalty cards, and this information can be used not only for advertising but also letting customers know when there is a recall by using the associated contact information contained in their accounts, according to Plunkett.
Costco members already have this feature built into their membership cards. When an FDA recall goes out, customers who purchased recalled products are notified within hours by automated phone calls. In addition, should a Costco member try to purchase a recalled product that hasn't yet been pulled off the shelf, the product will be flagged by the system at checkout, disallowing the customer to take the product home.