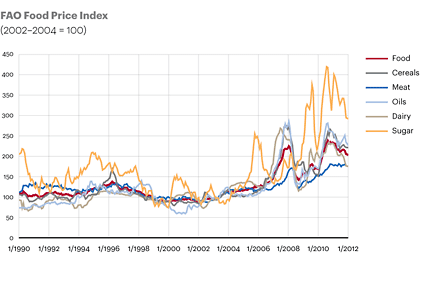 In the last six years, worldwide food markets have seen increased volatility due to droughts, lagging productivity and inefficient supply chains. Source: UN FAO.
Food processors and their partners in the supply chain face a multitude of issues as newly affluent shoppers in the developing world shift from grain- and vegetable-based foods to meat and poultry. Droughts, lagging productivity and price volatility also threaten food supplies and distribution, according to the AT Kearney paper, Recipe for Change: Can We Feed the World?
The report is the first of a series in which A.T. Kearney consultants examine disruptive changes in the food supply and security, and explore strategic responses taken by companies today, and outline future industry scenarios.
Large gains in economic growth in developing countries, which averaged 6.3 percent per year between 2000 and 2010, have created a new global middle class. In 2000, China had 3 million households with a disposable income over $10,000. Now, it has almost 60 million households with this income, and the number of households is projected to increase to 230 million by the end of this decade, says the article.
The UN Food and Agricultural Organization (FAO) estimates that, from 1990 to 2030, meat consumption will increase from 38 million tons to 59 million tons in Asia, and from 21 million tons to 35 million tons in the Middle East and North Africa. Since producing one lb. of protein requires the production of seven lbs. of grains, increases in meat consumption alone will require nearly a 100 percent increase in global grain production from 2000 levels by 2030. Current forecasts for 2011-2012 indicate we have covered just 20 percent of this projected need, says the report.
As developing world consumers continue to demand more meat and protein, consumers in the developed world are eating less meat. For example, in the US, annual per capita meat consumption peaked in 2004 at 184 lbs. and has steadily fallen to an estimated 166 lbs. in 2012, a level more consistent with the 1970s. An equally important shift is the move away from beef, long the preferred meat of US shoppers, to chicken. In 2010, US chicken consumption exceeded beef for the first time, according to the report.
Currently, 300 to 500 companies manage a significant portion of the supply network. By 2020, few companies will control the vast majority of food supply. Farmers and producers are more likely to be corporations, and consumers will be serviced by large global retail and restaurant chains. The food industry needs to act as one to tackle the global issues of food insecurity, sustainability and safety. The interdependence of food manufacturers and retailers on food safety, sustainability, animal welfare and labor laws will create a new level of competition that will favor supply-system innovation that takes advantage of the scale and influence of the network. Collaboration and trading-partner alliances will become necessary strategic imperatives.
For global food companies, the changing landscape of the next 10 years has significant implications, as well as opportunities to make a positive commercial and social impact. Three emerging realities are already reshaping the industry. First, faster innovation cycles will be needed to meet rapidly changing customer demands in the developed and developing worlds. Second, competition between supply networks, rather than individual companies, will increase. Third, global scale will become increasingly important to meet emerging market demand and secure access to constrained resources.
For more information on the report, visit the AT Kearney website.