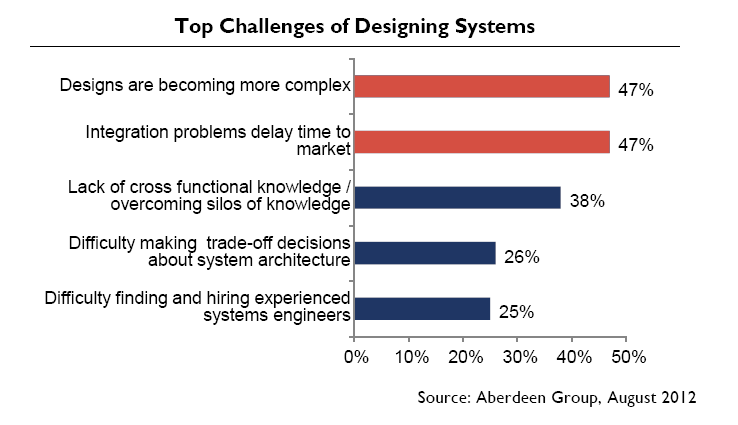 In designing complex systems, respondents to the Aberdeen survey cite complex designs and integration problems as top challenges in system design. Source: Aberdeen Group.
A recent research brief from Aberdeen Group, Managing Systems Design Complexity: 3 Tips to Save Time, looks at the issues of increasingly complex systems of interconnected software, electrical systems and mechanical components. Automation products based on these systems with embedded software have enhanced functionality, but the complexity of these systems has grown exponentially, says the study.
"Plant engineers are often called on to troubleshoot mechanical and electrical issues in the plant, but they seldom write code for the overall plant control system and struggle at times to dig into it to determine the problem," says Jeff Miller, chair of Control System Integrators Association (CSIA) best practices committee. Miller also says technical and maintenance staffs are shrinking at manufacturing operations in North America and around the world.
"Engineers tend to be experts within their domains, but have limited understanding outside of it," says Michelle Boucher, Aberdeen researcher. "The availability of experienced engineers continues to lag behind demand for their services."
Many engineers are reaching retirement age and are not being replaced—often because engineers with specialized technical expertise can't be found in a tight labor market, says Miller. He has seen an increase of manufacturers contacting CSIA for help. "Every day, CSIA members provide the marketplace with control system expertise. We stay on top of new technology and know how to use it.
"More CSIA integrator companies are required by their customers to commit to service and support contracts," adds Miller. "CSIA believes the need is critical enough to create an integrator best practice around it."
CSIA added a section on service and support to the Best Practices and Benchmarks Manual when it was revised in 2012. The manual provides integrators with industry-proven best practices in areas of general management, human resources, marketing, financial management, project management, system development lifecycle, supporting activities and quality assurance.
CSIA's Best Practices and Benchmarks Manualoffers a defined process for delivering service and support that is different from integrator-supported projects, according to Miller. It guides CSIA members on how to best work with clients in this role. For more information on CSIA's Best Practices or how to find an integrator, visit the CSIA website.
For more information on the Aberdeen report, Managing Systems Design Complexity: 3 Tips to Save Time, visit the report's web page.