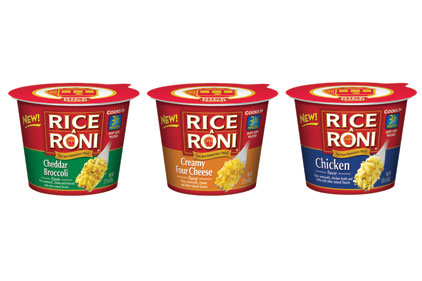 Three varieties of Rice-A-Roni's new microwavable rice in a cup are in national distribution. Source: PepsiCo.
It took half a century, but the San Francisco treat's first truly new product hit national distribution in late 2012 when PepsiCo's Quaker division rolled out microwavable instant rice in single-serve cups.
Microwavable Rice-A-Roni cups required a reformulation of the rice, vermicelli and seasonings that are browned and simmered on a stovetop with the conventional product. "We are always looking to develop new products that deliver unmatched taste, quality and convenience," Marketing Director Tania Haladner says. With the cups, on-the-go diners peel off the lid, add water and stick the cup into a microwave for 3 ½ minutes.
But convenience comes at a cost. Individual 2.2-oz. cups carry a suggested retail price of $1.29. The SRP for a 6.9-oz. box of Rice-A-Roni is $1.59, a company spokeswoman says.