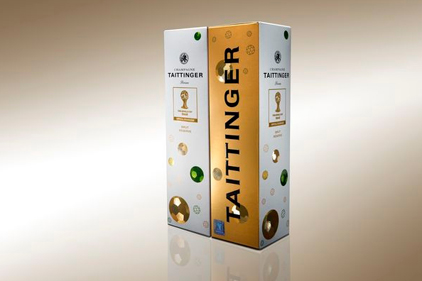 As the 2014 World Cup continues to ignite the globe with football fever, official champagne supplier of the games Taittinger, announced the release of a limited edition Brut Réserve NV and a gift carton made for the competition.
The carton is a version of the packaging that was awarded Carton of the Year in 2012 at the Europe-wide ProCarton/ECMA packaging awards. That carton was decorated with round holographic effects meant to represent champagne bubbles. For the World Cup package, the bubbles have been transformed into holographic footballs.
The World Cup gift carton is made of Iggesund Paperboard's Incada 235 g/m2 paperboard and the conversion is by Le Sanglier, which specializes in gift cartons for champagne. The foil lamination is by API. The bottle is specially produced for the event, with the World Cup trophy depicted on a gold label.
"It's a momentous occasion for us to be associated with such a major event as the football World Cup," explains Clovis Taittinger, company export director. "We've used the latest in both printing technology and 3D printing to create both the unique bottle and the carton."