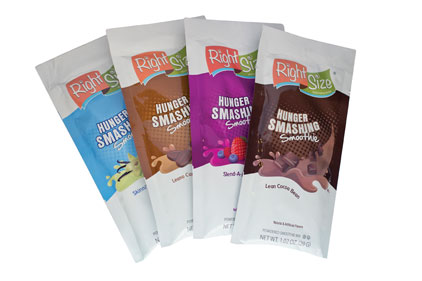 Four flavors of the diet aid Rightsize now are packed in single-serve pouches for on-the-go consumers. Source: Insight Beverages Inc.
Old ideas that clicked are tailor made for recycling, provided they have a contemporary twist. Exhibit A is a new single-serve smoothie pack from Insight Beverages Inc.
Two years ago, Insight acquired Lake Zurich, IL-based Rightsize, maker of an eponymous smoothie mix sold at retail in 20.5-oz. canisters. The mix is positioned as a meal-replacement diet aid. Followers of the plan can purchase a 20-oz. "blender bottle," with a steel coil inside, to mix the powder with skim milk.
Protein levels and carb and calorie counts are similar to Carnation Instant Breakfast, the evaporated milk mix introduced in the mid-1960s. Instant Breakfast enjoyed moderate success when merchandised in grocers' long-gone diet sections, but popular success came when it was moved to the cereal aisle.
Laurie Chapman, Rightsize's brand manager, hopes the single-serve pouch composed of foil and PET will do for her diet aid what the cereal aisle did for Instant Breakfast. "It's a more contemporary version of Instant Breakfast," she says, "with all the convenience factors built in for people on the go."
For more information:
Laurie Chapman, Insight Beverages Inc., 847-847-3139, lchapman@insightbeverages.com