New Products
Technology Sourcebook
Liquid nitrogen tunnel freezer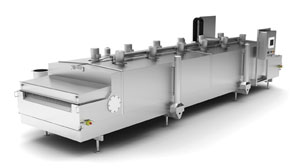 The Air Products Freshline MP liquid nitrogen tunnel freezer achieves cryogenic temperatures throughout the tunnel. A PLC-driven controller operates all functions of the unit, while a touch screen interface provides an information tracking capability. The entire length of the freezer is gasketed to maintain a tight enclosure. Meeting or exceeding international cleanability standards, the freezer has accessible, slightly pitched surfaces that promote water runoff during cleaning.
Air Products and Chemicals, Inc.; 800-654-4567; www.airproducts.com


I want to hear from you. Tell me how we can improve.