New Products
Technology Sourcebook
Flexible block I/O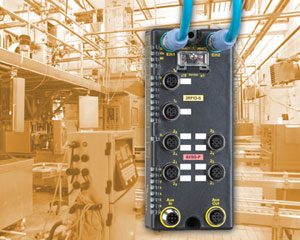 The TURCK BL compact on-machine, flexible block I/O for industrial Ethernet obtains analog, digital, thermocouple, RTD, serial, RFID or a mixture of signal types. Up to 2 signal types can be combined in any combination; the drop-in solution can be used to connect up to 16 devices. It permits only 1 Ethernet master to control the outputs, while the input and diagnostic data are available to the other protocols. The unit provides several I/O configuration options, including 16 M8 connectors for digital I/O with no splitters and an 8-port M12 station. Available with 4, 8 or 16 ports, it comes in a package rated for IP68 and IP69K protection.
TURCK; 800-544-7769; www.turck.us


I want to hear from you. Tell me how we can improve.