New Products
Technology Sourcebook
Progressing cavity pump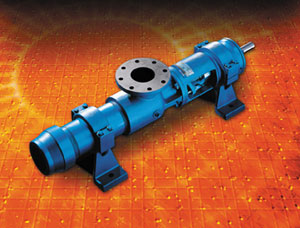 Used for water and wastewater treatment, food processing and general industrial applications, the Moyno L-frame progressing cavity pump handles products from clean, thin, shear-sensitive items to viscous, corrosive, abrasive slurries and sludges. The pump features a non-pulsating, metered flow; capacities to 450gpm; and pressures up to 2,100psi. Standard flange models have a modular design with a pin-type universal joint; open-throat versions are available. Both types are available with a variety of drive options, sealing configurations, motors and controls.
Moyno, Inc.; 877-4UMOYNO; www.moyno.com


I want to hear from you. Tell me how we can improve.