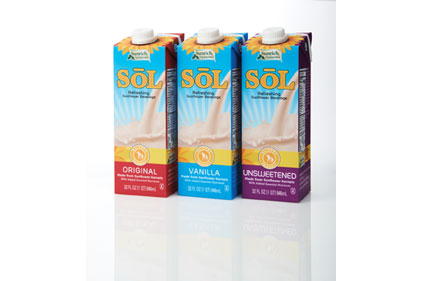 Original, unsweetened and vanilla flavors of SoL Sunflower Beverage debuted in the Tetra Brik Aseptic Edge carton, one of the first US applications for the pack. Source: SunOpta Inc.
A functional beverage deserves an equally functional package like the Tetra Brik Aseptic Edge carton SunOpta Inc. chose for the launch of its Sunrich Naturals brand SoL Sunflower Beverage. The 32-oz. container, one of the first US applications for the sloped-top aseptic carton from Tetra Pak, Vernon Hills, IL, provides a shelf life of nine months for original, unsweetened and vanilla flavors. The angled top makes it easier to access, grasp and open the ridged cap, and a wider opening enhances pourability. Described as a dairy alternative and formulated to be dairy-, soy-, tree nut- and gluten-free, the SoL Sunflower Beverage can be enjoyed on its own, added to a smoothie or poured over breakfast cereal.  
SunOpta also has converted its Sunrich Natural soymilk line from Tetra Pak's standard Brik pack to the sloped-top container. According to Tina Nelson, vice president of sales & marketing, consumer products at SunOpta Grains & Foods Group, the package "offers superior preservation of the fresh taste and nutritional content of the product in addition to prolonged shelf life. And Tetra Pak's commitment to protecting the environment, which includes the package's recyclability and renewability, matches our own commitment to sustainable practices." 
The Tetra Brik Aseptic Edge carton features a low carbon footprint throughout its lifecycle. Carton material has been lightweighted approximately 11 percent and consists of about 70 percent paper, a renewable resource, along with a plant-based polyethylene layer and 30 percent thinner aluminum foil. Rollstock packaging material and the efficient cube of finished packs result in more material/product per truck and lower energy consumption for shipping.
For more information: 
Tetra Pak Inc., 847-955-6000, info.us@tetrapak.com