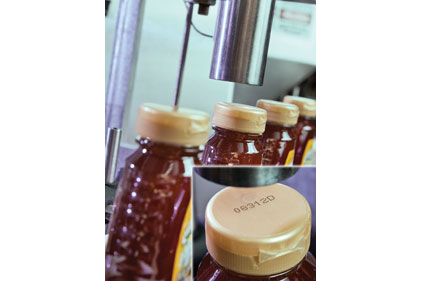 Dutch Gold Honey bottle caps receive crisp, clear and consistent codes from the networked Model 1510 Videojet printer. The inset shows a close-up of a printed bottle cap. Source: Videojet.
Dutch Gold Honey has grown into the largest family-owned honey company in the US. Located in Lancaster, PA, its products include 11 honey varietals, an organic honey and three varieties of maple syrup. Dealing with the demands of consumers, retailers, foodservice operators and food manufacturers, the processor needed to be able to pack its honey in a range of containers—from eight-ounce plastic, squeezable bottles to tanker trucks. 
Dutch Gold wanted to package and code its product in the most efficient manner while keeping up with its varying customers' demands. Unfortunately, the processor encountered coding mismatches due to a wide range of packaging requirements, a lack of coordination between primary and secondary coding, and different production codes and "best by" date information. The errors resulted in the scrapping of miscoded cases or reprinting of new labels to apply over the incorrect ones, creating a substantial amount of unnecessary waste and compromising productivity levels. 
The massive amount of coding variety proved difficult because production workers had to key in the information, which was time consuming and error-prone. Finally, Dutch Gold required flexibility from its primary and secondary printers to handle occasional requests such as special codes on packaging during holiday seasons and ad hoc customer code requests. 
"We needed a better way to coordinate our bottle printers with our case printers," says Jim Gerlach, Dutch Gold production scheduler. "After working with Videojet for over 30 years, we looked to them to help us address this issue. Selecting Videojet's complete coding solution not only helped us effectively manage the coding mismatches, but at the same time, we benefited from upgrading to compact, touch screen printers that are very easy to use and practically maintenance free."
The processor selected three Videojet Model 1510 continuous ink jet printers to code its plastic honey bottles. In addition, six Model 2350 large-character case coders were installed on the processor's secondary conveyor belt for printing clear product information on both sides of product cases. 
Finally, CLARiSUITE software was chosen to tie the two printing solutions together. The software's code assurance technology is networked with all the printers, pulling critical customer data from the processor's database for improved coordination from production line through case coding. 
The supplier worked closely with Dutch Gold to preload the CLARiSUITE database with customer information, such as sell-by/use-by dates, lot numbers, bar code information, case descriptions and graphics. Over 300 different codes were put into 15 templates; each message is started by an operator scanning a unique barcode. This saves the processor around five minutes per setup, which adds up to 30 minutes per day, or 2.5 hours a week and cuts errors to almost zero.
For more information:
Jessey Jin, 630-860-7300, info@videojet.com