FDA seeks stakeholder comment on proposed labeling changes for flavored milk products
Two industry groups seek a rule change for non-nutritive sweetener labeling.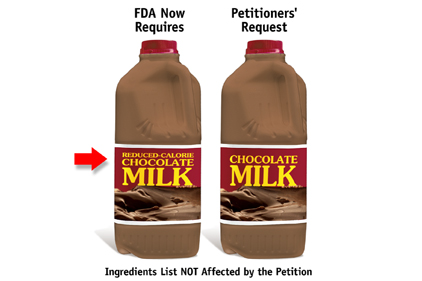 FDA has asked for comment from consumers, industry and other stakeholders on a petition submitted by two dairy groups seeking to change labeling rules for milk products sweetened with non-nutritive sweetener. FDA's current standards require milk products containing non-nutritive sweetener to include a nutrient content claim such as "reduced calories" or "low sugar", because the same product containing nutritive sweeteners would contain more calories. FDA rules also require the non-nutritive sweetener to be listed on the ingredients panel.
The petition, filed by the International Dairy Foods Association (IDFA) and the National Milk Producers Federation (NMPF), would make nutrient content claims optional in non-nutritive sweetened products. However, the sweetener would still have to be listed as an ingredient. Comments may be submitted until May 21, 2013 at www.regulations.gov under Docket No. FDA-2009-P-0147.


I want to hear from you. Tell me how we can improve.