Dry Processing
Bulk bag filling system
National Bulk Equipment offers a bulk bag filling process system that employs integrated automation to optimize process throughput, improve labor productivity and safety, and reduce material waste. NBE integrated automation uses a single menu-driven HMI that centralizes system-wide operations, including legacy, upstream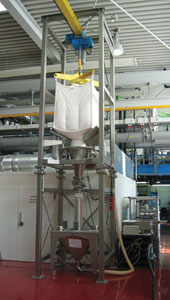 material supply equipment. It directs equipment controls, communication, sensing, monitoring and data reporting. The system includes automated pallet introduction, automated metering of material supply, NTEP-certified precision bag weighing and automated, filled-bag accumulation conveyors. A single operator can process up to twenty 4,500-lb.-capacity bulk bags per hour or 90,000 lbs. of dry bulk material per hour.
National Bulk Equipment; 616-399-2220; www.nbe-inc.com


I want to hear from you. Tell me how we can improve.