Dry Processing
Dual bulk-bag filling system
Flexicon's dual bulk-bag filling system integrates 2 Model Swing-Down bulk-bag fillers with a pallet dispenser and powered roller conveyors, allowing safe, high-capacity filling of bulk bags of all popular sizes. Programmable controls allow the fillers to operate separately or simultaneously, filling bags of the same size or 2 different sizes. When a filling cycle is initiated by push button or contact closure, pallet dispenser forks lower the stack of pallets onto the roller conveyor, withdraw from the bottom pallet and raise the remaining pallets, allowing the roller conveyor equipped with photoelectric eyes to move the dispensed pallet into position below the filling station.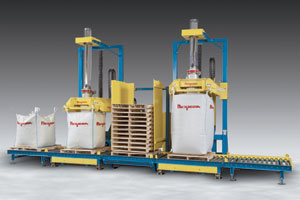 Flexicon Corporation; 888-353-9426; www.flexicon.com


I want to hear from you. Tell me how we can improve.