New Products
Technology Sourcebook
Sauce pellet depositor
The Hinds-Bock 4P-01 unit deposits sauce pellets for meal kits; it also deposits sauce, condiments and fillings into thermoformed cavities of horizontal vacuum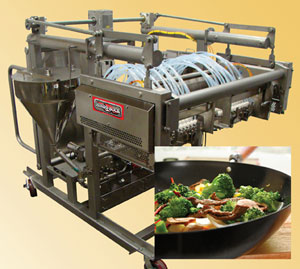 formers or pre-made cups. The depositor utilizes a servo-driven orbital spout bridge that follows the packages or platens during the fill cycle. The controls allow the fill parameters to be automatically set by selecting the recipe or SKU in the operator interface (HMI). Speeds up to 5,700 portions/min. are attainable, depending on product viscosity.
Hinds-Bock Corp.; 877-292-5715; www.hinds-bock.com


I want to hear from you. Tell me how we can improve.