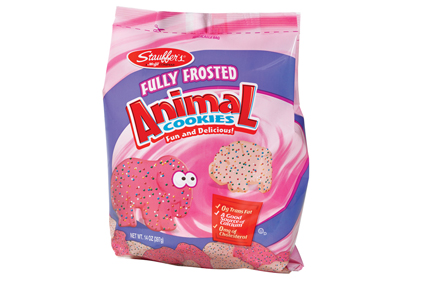 After his last trip to PACK EXPO Las Vegas, Jeff Patzer, director of engineering and maintenance at D.F. Stauffer Biscuit Co., purchased two baggers and two scales as part of a line expansion to introduce a fully enrobed chocolate version of the company's signature Animal Crackers.
A childhood favorite
D.F. Stauffer Biscuit Co., or Stauffer's, has been in operation for 140 years and was family owned until 2005 when Meiji Holdings Co., Ltd., a Japanese manufacturer of confectionery, dairy, pharmaceutical and other products, purchased it. Today, Stauffer's continues to manufacture Animal Crackers along with products such as M&M's Brand Bite Size Cookies, Whales Cheddar Cheese Crackers, Ginger Snaps, Lemon Snaps and assorted holiday cookies.
Stauffer's Animal Crackers came into production in 1871, and since then, the  lightly sweet crackers shaped like bears, giraffes and other animals have remained a popular staple among families with young children. The company's original Animal Crackers are available in a number of formats and sizes: 11-ounce bags, 16-ounce resealable bags, a six-pack of 2.125-ounce single-serve bags and a 24-ounce resealable plastic jug shaped like a bear. Other flavors of the treat include Chocolate Animal Crackers, Fully Frosted Animal Cookies and chocolate enrobed Animal Cookies.
Time for a change  
In 2010, Stauffer's decided to expand its portfolio of chocolate-enrobed products with the addition of pink and white enrobed Animal Cookies, a departure from the traditional cracker format. The launch meant changes in manufacturing, as the company's Animal Crackers are sheet products made with layered dough, and the cookies are rotary molded and wire framed before they are baked. After extensive testing, Stauffer's found it needed to modify its packaging line.
"This was our first time working with chocolate on this particular line. Our existing packaging area could not be utilized because we couldn't handle the new type of product due to room temperatures and scale materials," Patzer says. "We had to upgrade the area with new scales and bagging equipment for portioning product into the packaging, but we weren't sure how the machines would work with our chocolate."
With vendors already in mind, Patzer and his team of four, including a maintenance professional, packaging engineer and mechanical technician, prepared to attend PACK EXPO Las Vegas in search of the right solutions for the company's Pennsylvania facility. "I've been attending the PACK EXPO Las Vegas shows for 10 years," says Patzer. "Even if we're not in need of any specific technologies, I like to take the time to see what's new in our industry."
This time, preparation was critical to an efficient visit. To make the most of their time at the show, Patzer and his team had narrowed down their options to four different exhibitors. All had equipment similar to what Stauffer's needed, and the group was eager to see it in action on the show floor to better understand how it might interact with the company's existing manufacturing environment.
The right equipment for the job
After evaluating their options, the team decided to purchase two Proteus II baggers from Matrix Packaging Machinery and two Ishida combination weighers from Heat & Control.
"One of our biggest challenges is that we were new to working with enrobed chocolate products, so we were unsure as to how they would work on the equipment," Patzer says. "Both vendors provided valuable guidance, and the installation was done very quickly."
The Proteus II vertical baggers adjust to accommodate bag sizes from two- to11-in. wide and three to 15.5-in. long. They offer up to 40 user-adjustable programs and 10 user-configurable auxiliary outputs for ancillary equipment like coders, inserters or labelers.
"This feature was very convenient for us," Patzer says. "We really liked the fact the machines were made with Allen Bradley PLCs and parts. This meant we could find repair parts on our own without going back to the manufacturer if ever necessary."
The Ishida CCW-SE-214 combination weigher comes pre-configured to perform basic weighing functions with consistent accuracy and features a touch screen display. The machine offers built-in reporting with Ethernet capabilities. All product contact surfaces are made of stainless steel. The 14-head model can bag up between 400g and 800g of product in a single dump. Its maximum weighing volume is three liters per dump, and weigh is conducted at speeds of 100 wpm. Operators can store up to 50 presets.
"The uptime of the equipment has enabled us to become competitive in a new product category in a cost-effective way," Patzer says. "We believe we made the best choice of bagger and scale combinations for the robustness of our operation."
A successful debut and more to come
Launched June 2012, Stauffer's Pink & White enrobed Animal Cookies are sold in 14-ounce resealable bags at major national and regional retail outlets across the US. The products are so successful, Stauffer's must run the recently acquired equipment 24 hours a day to keep up with demand.
But that doesn't mean Stauffer's won't be reinventing this classic brand with new flavors and convenience-enhancing features. "We'll be back in Las Vegas to look for new developments in pouch packaging," Patzer says. "It's a format we're not presently in, and we know we'll be able to see some interesting solutions at the show."
To more information about PACK EXPO Las Vegas 2013, visit www.packexpo.com.