The 25th DuPont Awards for Packaging Innovation recognized designs that promoted sustainability, cost/waste reduction, protection or international collaboration. Five of the eight food-related winners selected by an independent panel of judges hail from beyond US borders and include Canada, Korea, Japan, Switzerland and the Russia Federation.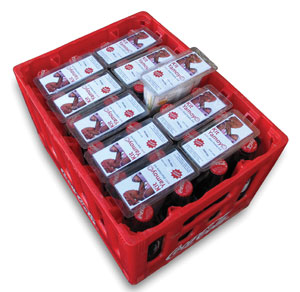 The AidPod package, designed as a self-contained anti-diarrheal medical kit that hips nestled in crats of Coca-Cola into villages in sub-Saharan Africa was the top winner at DuPon'ts 25th Awards for Packaging Innovation.
Source: DuPont. 
DuPont also collaborated with Packaging Impact Quick Evaluation Tool (PIQET) to offer a special, additional award to its Diamond and Gold award winners looking to gain a deeper level of understanding of the environmental impacts of their packaging. Each major winner was given the opportunity to have its packaging undergo a Life Cycle Analysis (LCA) assessment. PIQET is a software tool that allows packaging developers and designers to easily compare the overall environmental impact of different packaging formats in a typical LCA format.
A structural, self-contained package for an anti-diarrheal kit sent to remote villages in sub-Saharan Africa received DuPont's Diamond award and special Food Security award. The AidPod kit is nestled in unused space within crated bottles of Coca-Cola. The design firm pi 3 of the United Kingdom created the package for ColaLife, an independent nonprofit UK-based agency that leverages the distribution network of The Coca-Cola Company.
Coop Cooperative and Awtec, both of Switzerland, provided a holistic redesign  of a popular but bulky convenience salad bowl that captured a Gold award by improving the package's sustainability, convenience and economics. The amount of packaging material was reduced by 30 percent by changing it from a round to a square shape; sustainability was gained in a move to recyclable polyester (RPET). A removable, multi-component tray that securely snaps onto the container as a lid and provides a "shake" function that allows users to mix the salad with the salad dressing was added as an enhancement to consumer value.
The only recyclable modified atmosphere package (MAP) tray in the world earned the Silver award. The tray is made for meat, chicken and seafood entrées by Clearly Clean Products and Weis Markets, both of the US. The tray is manufactured from recycled PET and features a peel-away liner that, when removed, allows the tray to be recycled again. The ultra-thin, patented tray system provides barrier protection to maintain product shelf life.
Lotus leaves inspired the development of Toyal Lotus, a water-repellent packaging material used for yogurt lids, which garnered a Silver award for Aluminum K.K. and Morinaga Milk Industry, both of Japan. The inside sealing surface of the yogurt lid is made with Toyal Lotus and offers extremely high water repellency. This prevents yogurt from adhering to the inside surface of the lid, allowing it to remain clean for an added sanitation benefit.
iCel, a new polyamide-based sausage casing from Atlantis-Pak, a Russia-based firm, challenges traditional cellulose, collagen and natural casings by retaining the benefits of both permeable and barrier films. The Silver award-winning material features high mechanical strength and elasticity, allowing meat processors to use high processing speeds during sausage production. Production of the material doesn't require wet processes—such as solution-cast and reagent-induced precipitation—that are typically used to make casings of collagen or cellulose. It combines the high smoke and water vapor permeability of cellulose casings with optimal mechanical properties.  The oxygen barrier and relatively high moisture barrier prolong shelf life, preserve flavor and significantly increase product yield by keeping the moisture inside the product during thermal treatment.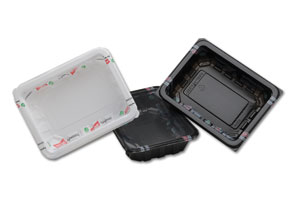 The world's only recyclable modified atmosphere package tray won a Silver award for Clearly Clean Products and Weis Markets, both of the US. The tray, made from recycled PET, provides barrier protection to maintain the shelf life of meat, chicken and seafood entrées. Source: DuPont.
The first use of a recloseable Seal Tab technology helped Pepperidge Farm's Baked Naturals Cracker Chips bag capture a Silver award. The technology, developed in collaboration with Sonoco Flexibles, features a large, visible reclose tab with a pressure-sensitive adhesive incorporated into the film lamination, resulting in a greater surface area and better adhesion without obstructing the brand messaging.
A unique 3-D In-mold label combined with a soft-touch effect helped a plastic injection-molded container, light-weighted with Mucell technology, get a Silver award. The 3-D IML combines the MuCell process from Trexel, U.S.A. with IML label technology for a visual appearance that differentiates the product without changing the container shape. The MuCell process controls the introduction of nitrogen into the polymer. Where there is adhesion between the label and polymer, the nitrogen migrates through both structures; where there is no adhesion (by design), the nitrogen accumulates between the polymer substrate and the label. The process creates bubble patterns or Braille for a multi-sensory experience.
Millennials are the target audience of Campbell's Go Soups line's flexible, standup retort pouch. The pouch, a Silver award winner, is microwaveable and enables a short cook time. It features a clear gusset that helps it stand up on shelves while also allowing consumers to see the ingredients that make up the product.
The Heinz ketchup bottle took a Silver award by redesigning key elements that improve production, cost efficiency, consumer usage and branding. The new bottle design improves stability under load and has a squeezable area that quickly rebounds. Overall package material was reduced by more than 20 percent by weight.
For more information:
 Carole Davies, 248-583-8112, carole.a.davies@usa.dupont.com