New Products
Technology Sourcebook
Barbed fittings
Designed for use with plastic and rubber tubing and reinforced hose, NewAge Industries Thermobarb barbed fittings come in polypropylene, polyethylene, nylon, PVDF and brass. Each fitting is connected by pushing it into the tubing and securing it with a clamp. Sizes range from 1/8 in. through 1 in. tubing I.D. in styles that include tees, wyes, reducers, connectors, adapters and nipples. Pinch clamps, check valves, clamps and other fittings are available.
NewAge Industries, Inc.; 800-506-3924; www.newageindustries.com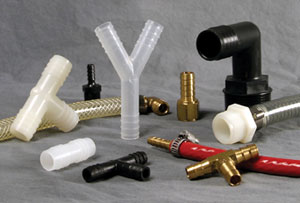 I want to hear from you. Tell me how we can improve.