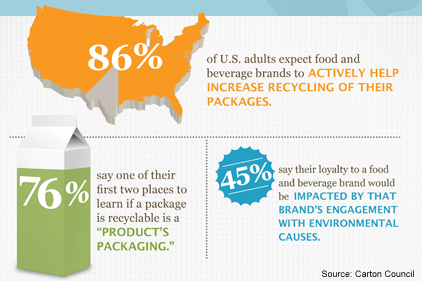 Consumers want recyclable packages, and they want to be able to know if packaging is recyclable by looking at it.
A survey conducted on behalf of the Carton Council of North America (CCNA) found 86 percent of consumers expect manufacturers to increase recycling of their packages, and three out of four prefer to learn about a package's recyclability from the package itself. A distant second, 33 percent, say they look to a company's website for recycling information, while 26 percent visit their city's website. Only 8 percent ask a salesperson or retail store employee.
Furthermore, almost half of the survey respondents say brand loyalty can be impacted by a company's engagement with the environment. Only 19 percent say engagement with the environment would definitely not impact loyalty.
"First and foremost, this survey reiterates the importance of including a recycling message on product packaging," says Jason Pelz, vice president, environment, Tetra Pak North America, and vice president of recycling projects for the Carton Council of North America. "In an increasingly competitive and green‑minded climate, consumers are revealing they expect food and beverage brands to actively help increase the recycling of their packages."
CCNA says access to carton recycling has increased 150 percent since 2009, when 21 million households in 26 states had access. That number has jumped to 52.5 million households in 45 states. For more survey results and carton recycling resources, visit www.cartonopportunities.org/survey.