Innovation
Case Studies & Field Reports
Field reports
The tools to scale up the perfect batch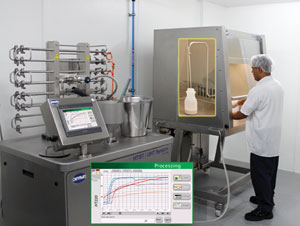 The TERLET-OMVE USA Model HT220 inline sterilization system (foreground) and FS210 hygienic filling and closing bench (background) mimic Jogi Juices' completely automated plant. The foreground inset (green box) shows the HMI panel with pushbutton selection of recipes, trending (shown), configuration and parameters; and the yellow inset shows the interior of the FS210 filling and closing bench.
Photos by Wayne Labs.
Jogi Juices LLC, located in Paterson, NJ, produces several fruit juices and beverages many Americans would consider exotic, even though they are fairly well-known in Latin America and the Caribbean. With the exception of a few organic brands, the automated plant produces beverages almost exclusively for its parent company, Tropical Cheese Industries in Perth Amboy, NJ, under the TROPICAL label.
According to Alberto Plumacher, plant/production manager, producing pure tropical flavors, such as guava, soursop (known as guanabana in Spanish), tamarind, passion fruit and several others, creates problems. Sourcing fruit is difficult; it may require lining up suppliers from several Latin American countries and global regions including the Far East. Plus, the same fruit species from different countries does not necessarily taste the same. Therefore, Jogi Juices cannot afford to experiment with the flavor on a 1,000-gallon batch.
To remove the guesswork, Plumacher and COO Luis Mendez test a couple of gallons of each potential product-batch run in their pilot lab. The pilot lab mimics the automated inline pasteurization/cooling process and the hygienic filling and closing process on the plant floor. Plumacher chose the OMVE Model HT220 inline pasteurization and sterilization unit and an FS210 hygienic filling and closing bench, both from TERLET-OMVE USA. The HT220 features a tubular heat exchanger, with an optional plate or SSHE heat exchanger, and direct steam injection. Built-in software provides a clear, dynamic overview of the entire process; the unit has an on-board 10-inch TFT touch screen display and records all data points and recipes onto a removable USB storage device. A built-in PLC guides the operator through all stages of the process. The FS210 filling and closing bench features a sterile down-flow system, adjustable front window, TFT touch screen controls and integrated cleaning/sterilization loop with the HT220 processor.
"Any time we want to make some changes to the formula, we bring it into the R&D lab," says Plumacher. "If we were wrong in our formulation, we lose just three gallons, compared to the 350 gallons or more we could lose on the production line."
Once taste testing is completed and the recipe confirmed and scaled up, it's time to run the production in the plant in much the same way it was done in the TERLET-OMVE lab equipment. "In the plant, we mix everything and do flash pasteurization," says Plumacher. "We heat up the product to 193°F for 15 seconds, and then we cool it down to 36° within 15 minutes. Then we fill and pack it into bottles. Every bottle is pre-sanitized before it's filled. Everything in the plant (from batching to filling, case erecting and palletizing) is completely automated—including CIP. We do it all with five employees."
The end result? Tasting several samples is like picturing the lush countries from which the juice originated.
For more information:
Alan Ferraro, 856-241-9970 (ext. 102), aferraro@heinkelusa.com or www.omve.com


I want to hear from you. Tell me how we can improve.