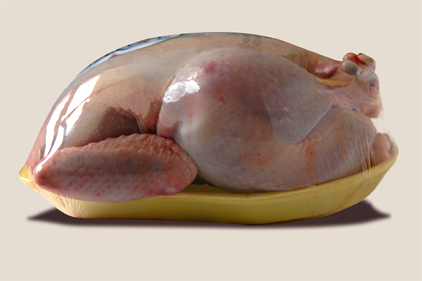 The first results of a new survey testing for the presence of Campylobacter on fresh, store-bought chickens revealed 59 percent of birds tested positive for the bacteria.
Though it is killed by cooking, Campylobacter affects an estimated 280,000 people in the UK each year, according to the Food Standards Agency (FSA) which published the study. A majority of these cases come from contaminated poultry.
The bacteria were identified outside the packaging in 4 percent of samples. According to FSA, previous studies looking into the prevalence of Campylobacter have also shown about two-thirds of raw poultry carry Campylobacter.
"This survey is an important part of the work we are doing to tackle Campylobacter," said Catherine Brown, FSA chief executive. "It will give us a clearer picture of the prevalence of Campylobacter on raw poultry sold at retail and help us measure the impact of interventions introduced by producers, processers, and retailers to reduce contamination.
Brown said the chicken supply chain is looking into how interventions such as improved biosecurity on farms, rapid surface chilling and anti-microbial washes can help reduce Campylobacter.