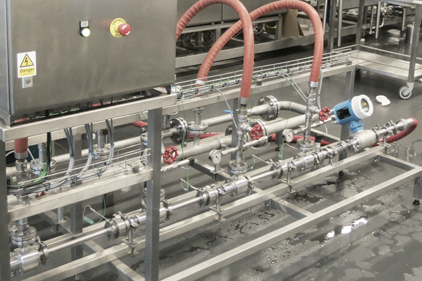 Affected by the growing number of refugees without food or water in Iraq, the president of Azersun, the leading food producer in Azerbaijan, has fully funded a rapid cooking system built by UK-based engineering firm Olympus Automation (OAL).
According to the Jordan-based news agency Al-Bawaba, more than 500,000 Iraqi refugees are still in need of emergency aid. The refugees, living in the country's northern Kurdish region, fled to the area to escape escalating violence from the Islamic State, or ISIS, in the north and west.
Sensing time was of the essence, OAL Managing Director Harry Norman said the company has been quick to respond and will ship the system sometime in the coming week.
"Normally systems take 24 weeks to manufacture, but this is clearly not a normal situation, lives are at stake and we will be able to deliver a Steam Infusion cooking system in a week," Norman said. "Steam Infusion is 4 times faster than traditional processes making the equipment ideal for feeding lots of people, hence the call from the president."
OAL said it will fly an application specialist to an undisclosed location in Turkey to provide training on the system before it is deployed in Northern Iraq.
OAL are supplying a simple cooking system based on its Steam Infusion technology to make lentil soups, rice and provide a clean source of water for drinking and washing. The cooking system uses will use Steam Infusion, OAL's revolutionary heating and mixing process to make 4,000 portions of hot food an hour.