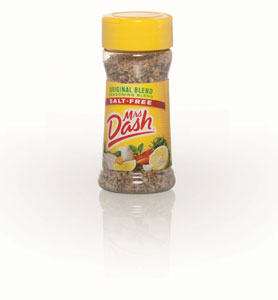 A new bottle for Mrs. Dash seasoning reduces PET resin use by more than 200,000 pounds per year. Source: Meredith-Springfield.
Sustainable packaging provides more than environmental benefits—it can minimize packaging, warehousing and shipping costs. B&G Foods, manufacturer of Mrs. Dash seasoning, was happy to realize those additional benefits after engaging Meredith-Springfield Associates, Inc. on a sustainability-focused redesign of the Mrs. Dash packaging.
Meredith-Springfield, a plastics manufacturer specializing in extrusion blow molding and injection stretch blow molding, engineered a new bottle that reduces packaging weight by more than 25 percent while maintaining a consistent appearance for the consumer. The new packaging process, says Marty Schoch, director of global procurement for B&G Foods, "was able to save B&G Foods a double-digit profit percentage without impacting brand ID."
Meredith-Springfield constructed pilot molds for design experiments to explore ways to reduce the amount of polyethylene terephthalate (PET) in the packaging. Adjusting the weight-bearing performance of the packaging eventually resulted in the more than 25 percent weight reduction of the Mrs. Dash bottle, ultimately saving B&G Foods more than 200,000 pounds of PET resin per year.
"In reducing the weight, we carefully engineered the placement of remaining mass of plastic to go into the areas of the bottle that would maximize top-loading ability," says Mel O'Leary, Jr., president and chief operating officer for Meredith-Springfield. "For Mrs. Dash, we are using the most advanced plastic molding technology to alter the amount of plastic and placing PET only where it most impacts package performance."

For more information:
sales@meredithspringfield.com, 413-583-8600, www.meredithspringfield.com,