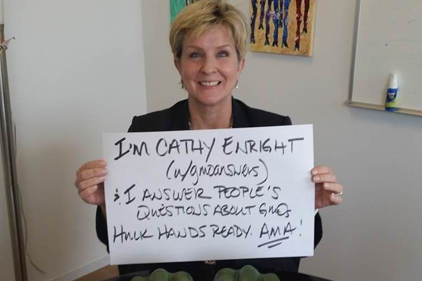 The biotechnology industry will hold a public Q&A event on the entertainment and news website Reddit today, answering any questions relating to genetically modified organisms, or GMOs.
Cathleen Enright, executive director of the Council for Biotechnology Information and GMO Answers spokesperson, will be featured at 1 p.m. on the website for an "ask me anything" event.
"We need to do a better job talking about the technology—what GMOs are, why farmers choose them, what benefits they provide, and what about those assertions of safety risk? If you are skeptical about GMOs and have questions, please ask me," Enright said.
Reddit has covered the topic of GMOs and agricultural biotechnology, but this is the first time that an executive from the biotechnology industry is participating in an "ask me anything" event, according to GMO Answers.
Enright says using an unmoderated, engaging forum like Reddit is one of the many ways the industry is trying to stimulate an open and transparent discussion about GMOs.
While participants can ask questions during the event, questions may be asked anytime at GMOAnswers.com, Enright said.