New Products
Technology Sourcebook
Overbraided PTFE hose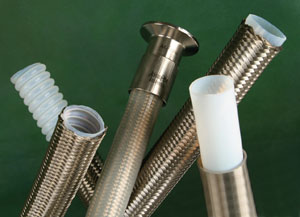 Used in high-purity hot/cold food and beverage applications, AdvantaPure APFOS stainless steel overbraided PTFE hose has an inert core that meets FDA 21 CFR 177.1550 and ISO 10993 Sections 5, 6, 10 and 11; it offers low permeability, nonflammability and a low coefficient of friction. The 304 stainless steel wire overbraid material reduces kinking and protects the core. The hose handles temperatures from -100°F to 450°F.
AdvantaPure; 888-755-4370; www.advantapure.com


I want to hear from you. Tell me how we can improve.