New Products
Technology Sourcebook
Integrated VRC system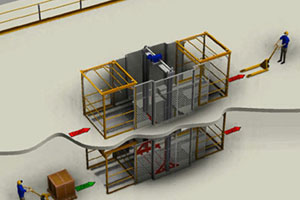 Engineered for material lift in automation duty applications, the Wildeck fully integrated VRC system incorporates automated flush-mounted conveyors with a straddle or 4-post vertical reciprocating conveyor. Overhead safety gates at the in-feed and discharge points protect workers and prevent loads from being inadvertently pushed into or down the shaft-way. Separate inbound and outbound lanes can be set up at each elevation to provide C-load, Z-load or H-loading patterns.
Wildeck, Inc.; 262-549-4000; www.wildeck.com


I want to hear from you. Tell me how we can improve.