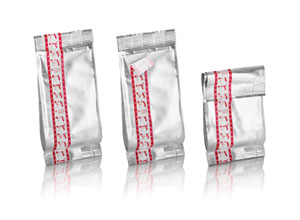 Re:Close tape reduces food waste and facilitates portion control. Source: Essentra.
Making consumers' lives better. That is what UK-based Essentra Packaging set out to do when it developed Re:Close tape, a sealer aimed at maintaining product freshness.
Martin Dallas, Essentra's managing director - specialist technologies, says Essentra identified four trends: 1.) 85 percent of consumers believe larger packs are better value, purchasing more product than they need. 2.) On average, 38 percent of purchased food is wasted in the UK because expiration dates approach before the food is consumed. 3.) There is increasing consumer lobbying pressure to take in fewer calories, making portion control a part of a health-conscious lifestyle. 4.) Consumers are more mobile, increasing the demand for food on the go.
Dallas says Re:Close tape has a wider surface area than similar taping products, making it easier for the consumer to locate. Plus, a large finger-lift area runs along both sides of its length, making it simple to lift the tape away from the pack. Once opened, the pack can then be rolled down, and the Re:Close tape can be used to reseal it securely. The design also features step-by-step instructions on how to use the reclosing functionality.
Tape size ranges from two-thirds to two inches. The Re:Close tape can be resealed up to 10 times and still maintain product freshness.
Dallas says  the tape easily integrates into existing application equipment on multiple lines, without any impact on speed or runtime. The tape applicator bolts onto the packaging line at the forming shoulder. Any polyethylene or polypropylene package accepts the tape. Currently, the tape can be found on snack packs, but Dallas says Essentra is working on a freezer-friendly version.
For more information: sales@meredithspringfield.com, Martin Dallas, +44 (0)1908 359175, martindallas@essentra.com, www.essentra.com