Sweden-based BillerudKorsnäs offers FibreForm, a proprietary, natural, renewable, Forest Stewardship Council (FSC)-certified paper that can be 3-D formed. The packaging material gives brand owners, converters and packaging designers the ability to create unique shapes and formed designs that go beyond the capability of traditional papers. The material is strong enough to be used in applications traditionally reserved for plastic, glass or metal.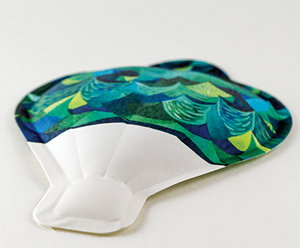 The FibreForm 3-D-formed packaging solution can be used to make unique shapes and packaging designs. Source: BillerudKorsnäs.
"FibreForm is extremely strong and puncture resistant," says Gary Robinson, director of business development for BillerudKorsnäs. "We use only virgin materials, which provide greater strength." Plus, they make the packaging safe for direct food contact. The material can be used in laminates to create solutions for high-barrier, peel-seal or biodegradable applications.
FibreForm can be used with existing high-speed thermoforming equipment—either form/fill/seal (F/F/S) or preforms—at a faster rate and using less energy than plastics. It can be preprinted and used for deeply embossed labels that offer 3-D visual and tactile effects.
"Using the sense of touch, you get consumers to interact with your package," says Robinson,  "which creates a stronger brand impression. Plus, the labels are highly customizable."
Additionally, because FibreForm is paper, it can be considered a renewable packaging solution. "FibreForm offers an all-natural alternative to plastics," Robinson says. "We use best-in-class papers that allow us to do amazing things with the packaging." 
For more information: Gary Robinson, BillerudKorsnäs, 678-977-6647, gary.robinson@billerudkorsnas.com, www.billerudkorsnas.com.