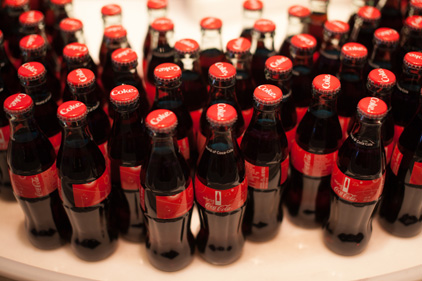 The iconic Coca-Cola bottle turns 100 this year and the company is rolling out a year-long campaign to celebrate this milestone and honor the bottles distinctive shape and design.
"Since its creation in 1915, the Coca-Cola bottle has achieved iconic status as a symbol of refreshment and uplift and it remains an important asset for our business today." said Marcos de Quinto, chief marketing officer for the Coca-Cola Company.  "The campaign, which will be executed in over 130 countries, is our invitation to consumers around the world to share in the specialness of an ice-cold Coca-Cola."
According to the company, the bottle was born on Nov. 16, 1915 as a creation of the Root Glass Company in Terre Haute, Indiana.
"With its unmistakable curves and a distinctive contour, the bottle has become a global icon, inspiring a century's worth of signature moments in film, social history, design and the fine arts," the company said.
Plans for the celebration include new advertising, a music anthem and a series of art exhibits featuring works by some of the world's leading contemporary artists.
Campaign events include:
The Coca-Cola Bottle: An American Icon at 100 - Art Exhibition at the High Museum of Art in Atlanta, Georgia.
The Coca-Cola Bottle: Inspiring Pop Culture for 100 Years - Traveling Art Tour.
14 new television and digital films.
Kissed By – Out of Home and print campaign featuring iconic celebrities.
Nobody Like You – New Music Anthem from emerging artist, Francesco Yates.
Kiss The Past Hello – A book published by Assouline and featuring classic and contemporary images of the bottle.
 Story of the Coca-Cola Bottle App – Interactive journey for consumers through the Coca-Cola archives in Atlanta.