In the last 10 years, the term, TCO (total cost of ownership), has been used to describe a project's costs. But, all too often, the devil has resided in the details, with several unconsidered costs rearing their ugly heads after project completion.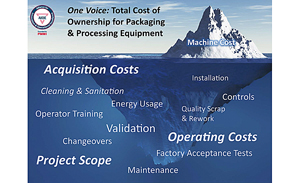 AIOE's "One Voice: Total Cost of Ownership" breaks down the cost of a machine into its various, sometimes-forgotten components. Source: PMMI's AIOE.
About two years ago, PMMI's Alliance for Innovation & Operational Excellence (AIOE) began to work on clearly defining TCO so food and beverage processors and OEM suppliers would have a clear playing field—a set of protocols for working together to determine project scope and all costs so there would be no surprises after project completion and during line/plant operation.
Formed in May 2013, AIOE's Total Cost of Ownership Solutions Group (TCOSG) was charged with:
Providing criteria of TCO for use by CPGs and OEMs (internally and externally)
Developing recommended guidelines and checklists that would be used in commercial transactions
Determining major costs for acquisition and operations.
The fruits of TCOSG are now being realized. Two documents are available at no charge on AIOE's website, and they can be used to set the basis for collaboration between processors and OEMs as they engineer new projects, whether they include upgrading new lines or building new lines or plants.
"Total Cost of Ownership Checklist: Acquisition Cost" and "Total Cost of Ownership Checklist: Operating Cost" outline in detail any imaginable cost that should be attached to the total cost of a project including, for example, trips to a vendor's site in Europe for a factory acceptance test (FAT). Both of these documents, and a third, AIOE's "One Voice: TCO Playbook" (which should be available by the time you read this), provide the framework processors and OEMs need to cost projects accurately.
According to Stephen Schlegel, AIOE co-managing director, an industry team of CPG companies and OEMs worked together on these documents and submitted their ideas for industry-wide peer review. The documents are designed to foster communication between all the stakeholders in a processor's organization and the OEMs from which they purchase equipment. The intended purpose of the "One Voice: TCO Playbook" is to provide details for the items covered in both the acquisition cost and operating cost documents, says Schlegel.
Perhaps most important, these documents will afford end-users with a transparent process.  "The whole concept is it takes away this issue of an OEM company saying, 'I do TCO this way,' and another company saying, 'I do TCO that way,' leading to confusion for the processor," explains Schlegel. The objective is to have an industry protocol that gives a level playing field for all to calculate TCO using the same methods so processors can make an informed decision.
The TCO Acquisition Cost checklist includes costs due to engineering; health, safety and environmental (H/S/E); specific controls; changeover options; permits and certifications; all documentation; spare parts and lubricants; FATs; site acceptance tests (SATs); shipping; warranties; installation; unloading, uncrating/disposal and assembly; setup; technicians; training; and—important for regulated companies—validation, commissioning, qualification and verification.
The TCO Operating Cost checklist includes expenses due to defects produced by an OEM machine, scrap, general startup costs, cost of procurement of materials, throughput-machine performance reliability and rework. Many other operating costs fit into the categories of operating labor, maintenance, cleaning and sanitation, training and utility/environmental costs.
Schlegel says transparency is a best practice that will benefit processors and CPGs. For example, this system will encourage communications to be consistent whether they come from the local plant engineering departments or corporate engineering since they will be using the same tools. When processors apply the One Voice: TCO method, expectations will be clear, and processors will understand what they are buying, resulting in a better use of capital.
"The other key point is that the team agreed 100 percent with the fact TCO should not be prescriptive, and it should not have a specific formula," says Schlegel. "What it should be is a collaboration tool to use when processors sit down and talk to OEMs." Then, OEMs can respond to a processor's request for proposal (RFP) by including a TCO checklist, giving a processor a sound basis for comparing responses from different companies.
Companies that participated early in the TCOSG include B&R, Campbell Soup, Del Monte, General Electric, Hormel, Keystone Foods, Kliklok-Woodman, Kraft, Kroger, Land O'Lakes, PepsiCo, Pro Mach and Snyder's Lance.
For more information, visit www.pmmi.org/aioe or contact Stephen Schlegel at sschlegel@pmmialliance.org.