As sustainability grows in importance in the food and beverage packaging industry, another manufacturer has introduced environmentally friendly products. Toray Plastics' LumiLid biobased, dual-ovenable lidding films are manufactured with proprietary, sustainable resin blends made with more than 50 percent renewable feedstocks. The films were created to lessen packaging's impact on the environment; they use fewer petroleum resources during their manufacture and meet the needs of environmentally conscious end-users and consumers. In addition, like all LumiLid films, they are solvent free and may alleviate concerns about solvent retention, as well as further enhance the films' sustainability profile.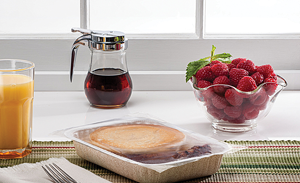 Toray Plastics' new biobased LumiLid lidding films for refrigerated and frozen side dishes, entrées, dairy products and other wet and dry foods, possess environment-friendly and high-performance properties. Source: Toray Plastics.
As announced last year by Toray Plastics, the LumiLid films are FDA compliant for use with oven temperatures up to 400°F for 30 minutes. They also provide an oxygen barrier and have a low seal initiation temperature. Plus, the films are Interstate Milk Shippers (IMS) certified, so they offer another level of assurance for dairy customers.
LumiLid biobased films can be used for lidded refrigerated and frozen side dishes and entrées that require high heat for cooking or reheating. According to the company, they have a broad seal range, outstanding seal integrity and an easy peel. They are available in clear, white and metallized formats.
For more information: Mary Gervais, 401-667-2281, mary.gervais@toraytpa.com, www.toraytpa.com.