In 1978, Ben Cohen and Jerry Greenfield forked over $5 to take a Penn State University correspondence course on ice cream making. They then went on to invest $12,000 — $4,000 of it borrowed — to open their first ice cream shop in a former gas station located in Burlington, Vt.
Now, almost 40 years later, there are 577 Ben & Jerry's Scoop Shops worldwide. And the company's three U.S. factories churn out pints, in total, at a rate of 400 per minute. The pints are delivered to 38 countries in 50 to 75 available flavors at any given time.
---
Article Index:
---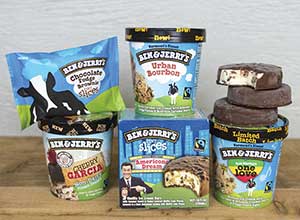 Ben & Jerry's expanded its line this year with new pint slices, more non-dairy frozen dessert flavors and new pint flavors such as Urban Bourbon and Bob Marley's One Love.
All of Ben & Jerry's decisions are guided by its three-part mission statement: to make the best products, to be financially successful and to stand up for social causes. From start to finish, these principles also drive the operations and the floor workers at the company's ice cream factory in St. Albans, Vt.
"The employees know what we're doing benefits the public and the community," says Randy Aiken, manufacturing manager at the St. Albans facility.
The plant is also one of the biggest employers in the area, which is just north of the company's headquarters in South Burlington. It was built in 1994, employs more than 200 people and runs 24 hours a day, seven days a week to produce more than 528,000 pints of ice cream a day.
The St. Albans plant is one of three Ben & Jerry's processing facilities; the others are located in Waterbury, Vt., and Hellendoorn, the Netherlands. Milk used in the St. Albans plant is sourced from the St. Albans Cooperative Creamery, which is located just 1.5 miles from the plant.
St. Albans Cooperative Creamery also is part of Ben & Jerry's Caring Dairy program. Ben & Jerry's created the sustainable agriculture program to provide farmers with a structure to evaluate, implement and continuously improve their practices. It includes the use of cover and rotational crops and alternative tilling techniques. The program also addresses animal care and good labor practices for farmworkers.
"The Caring Dairy program is important to the teammates," says Factory Director Rob Bellezza. "It's important for the social mission that Ben & Jerry's stands for."


It starts with the mix
Tanker trucks arrive at the facility carrying condensed skim milk and cream that have been separated at the cooperative. The milk and cream are tested for butterfat and solids and undergo a microbiological screening. They are then offloaded into six 12,000-gallon tanks, three of which are dedicated to cream and three of which are dedicated to condensed skim milk. The ingredients can stay in these tanks for up to 72 hours until the plant is ready to use them, but usually are turned over much more quickly.
When a batch is ready to be made, the cream and milk are incorporated with other wet ingredients such as liquid sucrose and cage-free eggs in stainless steel blending tanks. The plant can make 25 different types of mixes, which calls for a sophisticated recipe management.
"Ben & Jerry's batch process is automated and controlled by PLCs, which were just upgraded," Aiken says. "The butterfat and solids are tested to make sure they are in spec, and if they fall out, then our employees can make adjustments."
Dry ingredients such as cocoa powder are processed in a separate dry room using super sacks and bulk bag dispensers. This system was installed about four years ago so plant workers wouldn't have to continuously lift heavy bags.
Any dairy waste is collected and sent back to supplier dairy farms that have methane digesters. The farmers then turn the waste into methane, which generates electricity to fuel their operations. "This process contributes to the circular economy that helps support the mission statement of the company," Aiken says.
The process also helps Ben & Jerry's reduce the amount of wastewater it sends to the city. In 1994, the city gave them a small biochemical oxygen demand permit, only 1,500 pounds per day, and employees had to find ways to not use water for anything except cleaning.


The mix gets the flavor treatment
After each batch is mixed and tested to make sure it meets specifications, the mix is run through the high-temperature short-time (HTST) pasteurizer at 183° F for 26 to 28 seconds. The HTST typically pushes through 4,000 gallons per minute, but its capacity can be expanded up to 4,800 gallons per minute as needed. The base mix comes off at 38° F and goes into an aging tank. It ages in the tank for an average of eight hours before use, but can stay there for up to 72 hours.
"The aging tanks store our base mix, whether it be white, chocolate, low-fat or yogurt," Aiken says. "From there, it's pulled to whatever line it's needed on, into the flavor vats."
The flavor vats are 600-gallon vats on each line. After the base mix enters the first set of vats, the desired type of flavoring is added. The base is then stored in the vats at a temperature of 40° F before it is sent to the freezer. Ben & Jerry's ice cream also features low overrun, which gives it its creamy texture.
"While it's being pumped into the freezer, we're also adding air into the mix, which is the overrun," Aiken explains. "As it goes through the freezer barrel, it's not a whole lot different than how you would make ice cream at home."
The freezer barrel has blades that scrape the sides to mix that ice cream in with the rest of the batch. The ice cream eventually comes out looking like a soft-serve product, with a temperature of 23° F.


Adding inclusions, variegates
During our visit, the plant was mixing up Ben & Jerry's Phish Food and Everything But The ice cream flavors. Incorporating the iconic chunks and swirls for which the company is known requires a number of steps.
For Phish Food, solid fudge pieces — shaped like fish — are dumped from boxes into the fruit or chunk feeder hopper. These are pushed into the ice cream, which is then passed through a blender attachment to evenly disperse the chunks. As for how the equipment actually works, that's a bit of a secret.
"Every piece of equipment we buy, like fruit feeders, is off the shelf, but we customize it," Aiken says. "It's a challenge to get in so many chunks."
Before it is deposited into the pint containers, aka cups, the ice cream gets its swirl or variegate. For Phish Food, the addition is marshmallow, which is pumped through the contherm to cool before it passes through the variegator. Executed correctly, this process results in streaks of marshmallow evenly distributed throughout the pint.
"This speaks to the complexity of our product and the complexity of our process to produce it," Bellezza says.
When all of the elements have been added in, the mixture is dispensed into the pint containers at a rate of 200 pints per minute. A lidder properly places and pushes lids onto the containers. The pints are then conveyed into the hardening tunnel, which is equipped with fans, to achieve a temperature of -20˚F to -90˚F. The pints stay there for an hour and 45 minutes, eventually emerging with a core temperature of -10˚F.
 
Quality is top of mind
Ben & Jerry's wants its customers to have a great experience every time they open one of its products. To accomplish this mission, the company takes a number of steps before it sends the pints out the door.
In its packaging room, the plant has a stand called the Customer Relevance Quality Station, or the CRQS. An operator pulls random pints off the line every hour and inspects them at this stand to prevent a customer from having a negative surprise.
"From a packaging standpoint, pints are inspected for any damage or soiling on the cup itself and, most importantly, that the tamper ban is there," Aiken says.
Tamper-evident seals are put onto each pint before they pass through a number of safety checks. For food safety and quality control, checkweighers ensure the pints contain the proper amount of product. Metal detectors, meanwhile, detect anything that should not be in the pints, while a vision system verifies that the tamper-evident seal is on and the lid matches the correct cup (to protect consumers with allergies). In addition, an X-ray machine is used to make sure that all areas of the pints have the right amount of chunks.
"Quality control also performs cutups," notes Carrie Pontbriand, a food safety specialist at the plant.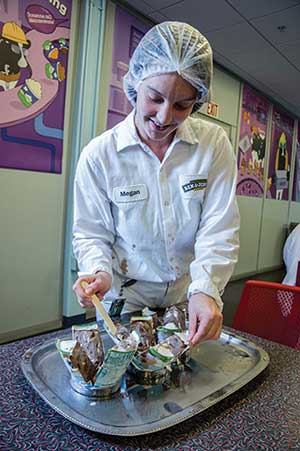 A quality assurance worker cuts a Phish Food pint into quarters, ensuring the marshmallow and caramel swirls streak the entire container and the chocolate pieces are evenly dispersed.
For these operations, the pint is cut into four quarters so a worker can visually check to make sure all elements are present and look evenly dispersed. During our visit, quality assurance workers cut a Phish Food pint to make sure the marshmallow and caramel swirls streaked the entire container and the chocolate pieces weren't all at the bottom or the top.
"A customer should experience no less than satisfaction," Bellezza says.
After all of the checks, the pints are bundled into packs of eight and palletized via robots.
"At this point, the pints are not touched by human hands again in the production process," Aiken says.
The robots can stack 240 sleeves on a pallet. These are wrapped and taken to the cold storage space, which can hold 2,000 pallets. They are then loaded onto trucks within 24 hours.


Worker, food safety is critical
In line with one of Ben & Jerry's core missions — to make the best product — food and worker safety are always top of mind. That's why employees pass a corkboard filled with pictures of their children before they enter the plant floor.
"It's to provide motivation to work safely," Aiken explains. "We also turn co-founder Jerry Greenfield's famous saying, 'If it's not fun, why do it?' statement on its head. We say, 'If it's not safe, why do it?'"
To promote food safety, employees gear up with the proper hygienic clothing and footwear. They then not only go through a boot scrubber, but also must vacuum their clothing.
When it comes to quality and food safety testing, Ben & Jerry's swabs for proteins and microbes, performs environmental monitoring, validates its cleaning processes and verifies with testing that nuts are not present where they shouldn't be.
"Out of the eight top allergens, we use six of them, so that is a challenge for allergen control," Pontbriand says.
The plant adheres to a very robust cleaning schedule, especially if any of those six allergens are present in the flavors made that day.
"We also have signs on the floor telling employees where allergens are present in the plant in case they have allergies," Bellezza says.
Since the St. Albans facility is a hybrid plant, it follows a hazard analysis and critical control point (HACCP) food safety management system — a global standard — as well as requirements under the Food Safety and Modernization Act, which is under the FDA, Pontbriand explains.
"Having both of the terminology has created some confusion among the staff," she says. "We have both critical control points and preventative controls."


World-class manufacturing
Employees on the plant floor are comprehensively trained on their equipment and given ownership of it. If there's a problem or the product is out of spec, workers are empowered to make the adjustments as they see fit without waiting for approval.
"Ben & Jerry's employees are not shy," Bellezza says. "They are passionate about what they do."
The plant has a "bottom-up" culture, meaning operators are encouraged to give feedback and communicate problems readily to maintenance. As a result, the company has found that all floor workers are more proactive, resulting in a better manufacturing process.
"The company is forward-thinking, and the culture's been like that since the early days," Bellezza says. "For the last two and a half years, we've just been giving it structure and fine-tuning it."
Ben & Jerry's refers to its current way of operating as "world-class manufacturing."
"We've found that's the way to keep problems from reoccurring," Aiken says.


Preparing for expansion
Because the plant is at capacity and running 24 hours a day, seven days a week, the company has invested $31 million to expand the existing footprint of 135,000 square feet by an additional 46,000 square feet. When the construction project — affectionately called "Extra Chunk" — is completed in 2018, the plant will boast at least six new areas, including a warehouse, a refrigeration room, mix storage space, a packing room, a sugar tank room and a wastewater treatment plant.
"When this plant was built in 1994, we didn't know what it was going to become," Bellezza says. "The new spaces will be more efficient and allow us more flexibility in production."
The plant also will eventually have six filling lines and be the company's fastest in the United States, filling 300 pints per minute. In addition, it will include a training center and a bigger quality assurance lab to accommodate the additional testing that will be performed.
"It's an exciting time for us," Bellezza says. "It's a proud moment that a lot of hard work has gotten us to."
 
At a Glance: Ben & Jerry's
Plant location: St. Albans, Vt.
Year plant built/opened: built 1994; opened 1995
Additions/renovations: chemical storage room, 2013; powder handling room, 2014; upgraded mix room, 2015; and Project Extra Chunk, 2017
Size: 135,000 square feet
Acreage of the site: 42 acres
Number of production employees: About 250
Products made and formats: Pints, mini cups (4-ounce) and bulk; pint slices (3-ounce bars)
Total processing capacity: 528,000 pints a day
Number of shifts: 3 shifts; 24/7 or 24/5, depending on volume
Number of filling lines/types: 4
Warehouse size: 1,900 spots in cold storage; 9 bays
 
---
---
Ben & Jerry's response to glyphosate findings
As consumers demand more transparency from food companies, the granular details of ingredients in food and beverages are being put in the spotlight. Efforts to move companies to non-GMO ingredients have been successful, but the focus now might be shifting to testing foods for chemical residue — specifically for glyphosate, the active ingredient in Roundup and other herbicides.
The topic received some publicity this past summer when an article in The New York Times reported that traces of glyphosate had been found in 10 of 11 samples of Ben & Jerry's ice cream. However, the levels detected were far below the ceiling set by the U.S. Environmental Protection Agency.
In a formal response to the article, Ben & Jerry's did say it was concerned to learn of the glyphosate traces found in its flavors. But the company noted that recent studies had found levels 78 times higher in organic whole wheat bread. And in a popular whole grain oat breakfast cereal, levels were 646 times higher.
The original article did point out that a 75-pound child would have to eat 145,000 8-ounce servings per day to reach the limit set by the EPA. Therefore, the Ben & Jerry's products are safe to eat.