Perhaps no area in a cold storage warehouse or distribution facility has more potential for employee injury than a loading dock. Lift truck collisions, trailer malfunctions, accumulating ice or puddles leading to falls, and many other hazards are always lurking and multiplied by the number of loading docks within a facility. And that was all before COVID-19 entered the picture. 
To find out what's trending in dock safety today, we spoke to experts at design-build firm ESI Group USA, and at commercial and industrial door manufacturer Rytec, to see what solutions are available for operators to meet current challenges. 
Touchless Technology and Coronavirus
The pandemic has made traditional face-to-face interaction among warehouse employees and truck drivers a risky endeavor, with masks and social distancing a prerequisite for any communication, check-in, or transaction. Carelessness can lead to infections, along with the downtime and loss of productivity that comes with recovery from the virus. 
"Until a vaccine has been produced and widely distributed, COVID-19 will continue to add to the concern for overall worker safety, ensuring large amounts of a facility's workforce are not hampered by infection and quarantine issues, both of which significantly impact day-to-day operations," says Michael Watkins, VP of marketing at Rytec. "Touchless and hands-free activation and entrance systems for docks that minimize or virtually eliminate touching of surfaces to enter or exit are in demand today."
Increased Use of Vehicle Restraints
According to Mark Livesay, ESI's VP of Automated Warehousing, the amount of dock levelers installed in North America increased by about 2% each of the last four years. Meanwhile, the number of vehicle restraints over that same timeframe rose approximately 7%.
He says approximately 7,700 forklift accidents happen at U.S. loading docks each year, so vehicle restraints are being used to help reduce those numbers.
"Many accidents may be minor collisions, though others are more severe. Cold storage facilities have seen too often where a truck driver pulls away from the dock prematurely during loading, or where a trailer gets nudged forward too much during loading due to the momentum of the forklift going in and out of the trailer. In both scenarios, there's the danger of the forklift falling off the edge of the dock. These more severe accidents are why more and more facilities are focused on installing vehicle restraints rather than relying on simple wheel chocks."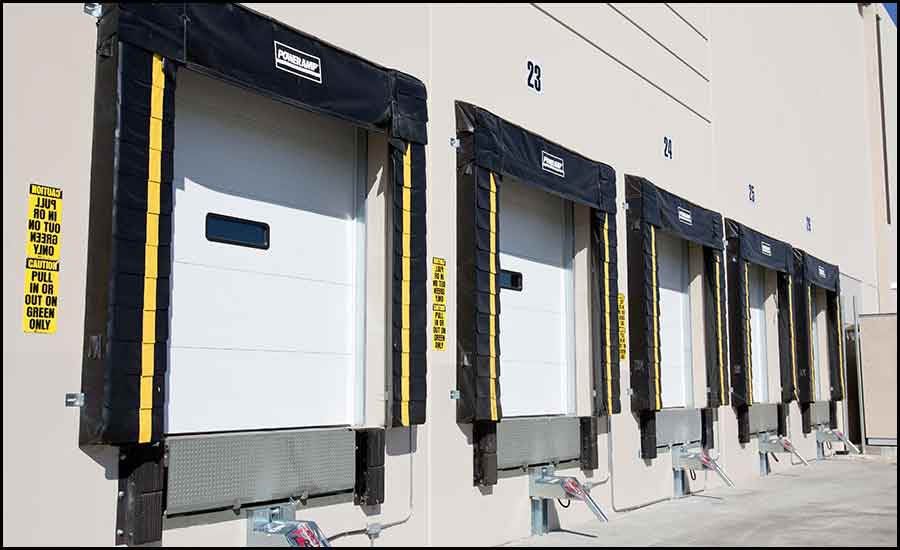 Each individual loading dock presents its own risks and hazards for employees. Those hazards are multiplied by the number of docks within a cold storage facility. All photos courtesy of ESI Group USA.
Loading dock doors in cold storage facilities that are properly measured, insulated, and tightly sealed can help reduce ice and condensation buildup, minimizing the risk of slips and falls while loading and unloading trailers.
IoT and Automation
The pandemic has been called "the great accelerator" for its effect on forcing certain industries to evolve faster to meet today's challenges. For cold storage and distribution facilities, coronavirus accelerated the need for automation and IoT technology in particular to help keep dock operations more organized in a rapidly changing environment, while also protecting employees.
"While vehicle restraints, safety barriers, and other safety equipment have existed for many years, they are now given more focus as a necessity to loading dock applications. This equipment is often expected to be interlocked together to help avoid injuries, damage to the doors, and reduce energy consumption," Livesay says, adding that emerging technology like online dock management services, and IoT-enabled dock controllers offer a solution for warehouses to monitor all dock activity and address safety concerns immediately.
Other areas where dock technology is increasing staff safety include "LED and sound-based warning and notification systems for alerting foot traffic to potential safety issues," notes Watkins. "Lift-truck accidents with foot traffic are among the most serious for dock areas. At the same time, vehicle-vehicle accidents may also occur in these areas if automated safety elements and warning systems are not prevalent or not installed in all potential impact areas."
"Lift-truck accidents with foot traffic are among the most serious for dock areas. At the same time, vehicle-vehicle accidents may also occur in these areas if automated safety elements and warning systems are not prevalent or not installed in all potential impact areas."
Over the past four years, the number of vehicle restraints (L) installed in docks across North America rose 7%, while dock levelers (R) increased approximately 2%, according to Mark Livesay at ESI Group USA. When used properly, both products can help reduce dock accidents involving trailers.
Tighter Dock Doors Reducing Slips and Falls
Cold storage facilities have the potential to produce ice or condensation on floors around dock doors, leading to staff slips and falls. Watkins says more operators today are realizing a tighter seal around their dock doors can help keep employees upright and reduce safety concerns. 
"Air infiltration and leakage around doorways and any related openings where temperature differentials exist can be prone to moisture conditions and create water or ice buildup. These scenarios are always problematic as they create slippery conditions for foot and vehicle traffic alike. Properly measured and closing doors, air circulation and heaters may enhance conditions and help prevent those situations from occurring in the first place."
What's Next?
Today's trends in dock safety are laying the foundation for further advances in automation and online management in particular, predicts Livesay. "Throughout 2021 and beyond, we'll see more IoT technology incorporated with safety equipment, such as vehicle restraints, to send text or email alerts regarding various safety concerns. For example, this could be restraints in bypass mode, open dock doors without a trailer present, or loading activity without any restraint action. The more this equipment is connected to online solutions, the more facilities will see the value of these safety alerts and the ability to be proactive about preventing a potential accident."