New capabilities with digital printing and smart packaging are changing how meat is packaged, and this is positively impacting everyone from processors to retailers to the end consumer.
Now that technology enables us to mass-produce digitally printed materials cost-effectively at the manufacturer or processor, we can produce smart, connected packages that disrupt the status quo and create a more innovative and consumer-focused approach to meat packaging and delivery. 
Processors can save time and money with track and trace benefits, brands can connect with consumers in new ways—encouraging brand loyalty—and consumers are experiencing a host of benefits at the point of purchase to help make their shopping experience easier and more enjoyable. 
A closer look shows how meat packaging in the digital age is enhancing the experience for everyone. Consumers experience a host of digital packaging benefits at the point of purchase, making their shopping easier and more enjoyable. Advancements in digital print technology enable high-speed, mass production of high-quality digital images onto flexible packaging materials.
Full-Color Printing That's Flexible and Accessible
Cost savings, flexibility and speed are benefits too important to overlook. Advancements in digital print technology is enabling high-speed, mass production of high-quality digital images onto flexible plastic packaging materials. All of these translate to benefits such as faster, lower-cost graphics preparation and changes, shorter lead times and smaller minimum order quantities. 
Digital printing also enables cost savings and simplified pricing by eliminating line, benday and process print distinctions. This means you no longer need to worry about pricing by number of colors or order size. 
These new technologies offer more flexibility than ever, including the option to have a company do the digital printing for you or bring it in-house. By printing in your own facility, you can optimize the process and print only what you need when needed, thereby eliminating any excess waste. This helps to lower material costs and reduce working capital due to more efficient inventory management. And, by printing on the production floor, graphics changes can be implemented quickly and with less changeover time.
Custom printing in the digital age is more flexible and accessible.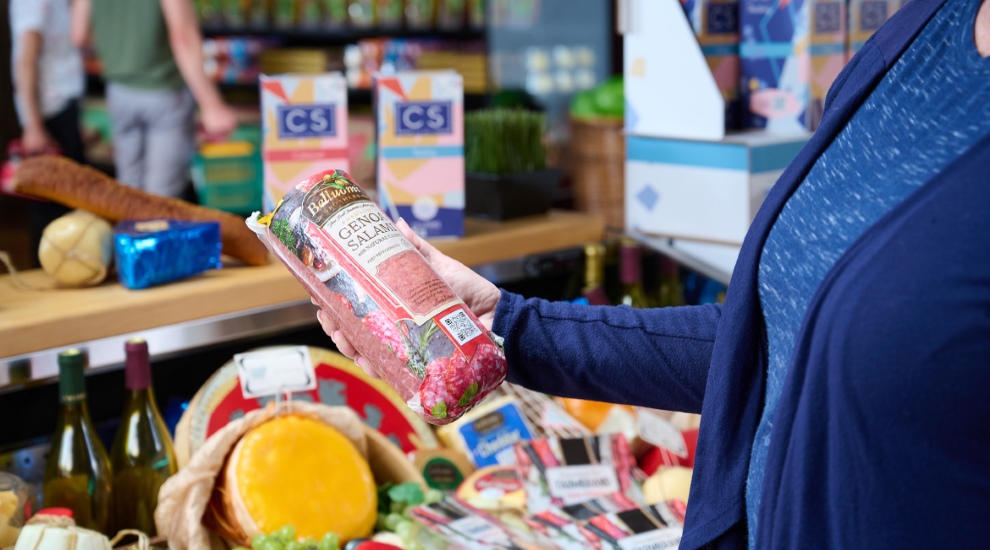 Consumers experience a host of digital packaging benefits at the point of purchase, making their shopping easier and more enjoyable. Image courtesy of SEE

 The Digital Packaging Effect on Operational Efficiencies
Today's automation technologies in combination with advancements in printing, allow for a unique serialized product code to be printed on every package. And digitizing every package allows you to follow it throughout its entire lifecycle.
When every package has a digital code, it gives each product a unique identity. So you can track and trace and pinpoint quality issues before they create a bigger problem, such as a recall, that can cost a lot of time and money. 
Here's how this works: As soon as a product is packaged, it gets an identity and claims its place in the cloud. This means you can see it and track it through every stage in the process—through packaging, through the supply chain and into the consumer's hand. This provides true farm-to-fork visibility.
Digitizing every product allows for managing inventory in real-time, gaining valuable insights into your operations and learning where there is room for operational improvement. If there is an efficiency problem, you can trace that problem and identify parts of that process that need improvement or employees that need additional training. This can help with a reduction in re-work, increase throughput and increase yield—all enhancing your operational efficiencies.
Once the package begins its journey, digital packaging can help identify and correct inefficiencies within the supply chain. For example, you might see that a package takes five days to get to the next stop, but it should only take two days. With this type of visibility, you can identify and correct inefficiencies within your supply chain without wasting much time.
With digital packaging, we can see the provenance of a package from the time it was conceived. For example, if we have information from the farmer about where the cattle were raised, this can be attached to the package identity. A way to authenticate the product, from farm to fork, is important for food safety concerns.
Digital packaging also offers sustainability benefits, including reducing the amount of materials used and food waste. For example, smart labels can replace traditional packaging labels, reducing the amount of paper and adhesive needed. And with the ability to track and trace every product, digital packaging can help reduce food waste by providing real-time information about the quality and freshness of the food.
Digital packaging gives every product a unique code, enabling automation, and providing visibility throughout the supply chain. Quality issues as well as operational inefficiencies can quickly be identified and addressed.
Consumers are Embracing the Digital Age
 Digital packaging can also be used to create a more engaging and interactive shopping experience for consumers. Today's consumers are expecting more from their packaging, including transparency, coupons, recipes and sustainability claims. And at the same time, consumer preference for case-ready meat has been growing for the past two decades.
Findings from SEE's 2022 National Meat Case study show that case-ready packages across all proteins have grown in share from less than half of packages in the meat case in 2002 to 83% in 2022. 
So with so much growth in case-ready, how can brands stand out in the case and create customer loyalty?
Simply put, digital packaging amplifies the impact of packaging. It provides a unique experience, enabling richer communication and meaningful consumer connections. This gives an edge to companies, no matter how their consumers shop, from e-commerce to in-store to third-party collection and delivery, the value of branded packaging is maximized.
Connected packaging allows brands to reach out and engage with those customers, telling their stories and creating value in a way that hasn't been possible before. Using their mobile devices to scan QR codes printed on each package, consumers can learn more about each product—from coupons and recipes to sourcing and sustainability claims. 
 As shopping with their devices in hand has become a way of life for consumers, the future of digital packaging is more than a QR code that takes a customer to a generic website. With a new cloud re-direction, every scan is analyzed by a cloud platform and can take consumers to a personalized experience. 
So, consumers can access information such as popular recipes for their region, local promotions and specifics regarding recycling packaging materials and company and product information. While it's important to always include branding and product info, offering unique content by location or time can personalize consumer engagement and keep them coming back for more.
And since the solution is completely digital and cloud-based, brands can test and revise these messages as needed, based on real-time data on how consumers respond to messages. Data such as scan location, time, date and number of scans empower brands to make better business decisions. 
Digital packaging allows companies to build a brand that consumers repeatedly want to do business with. It provides consumers a unique experience and value beyond the product while companies receive the data and analytics they need to build strong brands, make business decisions, increase engagement and improve brand loyalty.
Digital packaging significantly benefits the meat industry, from improving food safety and quality to reducing waste and costs. By embracing these new capabilities, companies can stay ahead of the competition and meet the evolving needs of consumers.