Dry Processing
Automated material handling system
National Bulk Equipment's automated material handling system provides a total process solution for moving highly fragile food product through multiple process operations into bulk storage for temporary holding prior to final packaging. At a process rate of 12,000 pounds per hour, bulk totes of food product are nested into a lift carriage and sealed in a custom-designed discharge hood. The tote is vertically conveyed, using 1 1/2-inch, solid 304 SS track-and-cam rollers, to a 23-foot discharge height.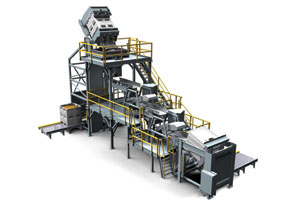 National Bulk Equipment, Inc; 616-399-2220;
www.nbe-inc.com


I want to hear from you. Tell me how we can improve.