Dry Processing
Dry Processing
Automated material handling system
The National Bulk Equipment automated material handling system moves highly fragile food product through multiple process operations into bulk storage at rates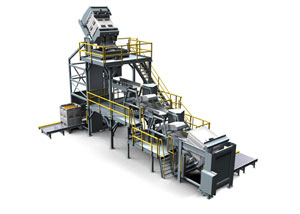 up to 12,000 per hour. Bulk totes of food product are nested into a lift carriage and sealed to a discharge hood, vertically conveyed and tilted. Optical sensors ensure a maximum discharge drop distance of no more than 5 in. throughout the 150° rotation. A vibratory conveyor moves the product through high-speed image processing and sorting stages. Finished process food product is transferred into a storage tote using a reverse-tilt fill method. A final takeaway conveyor section featuring an NTEP-certified weigh system ensures the filled tote weight is accurate to +/- 0.1% of the tote's 4,000-lb. capacity. Conveyor and container routing is directed from a single menu-driven HMI.
National Bulk Equipment; 616-399-2220; www.nbe-inc.com


I want to hear from you. Tell me how we can improve.