Case Studies & Field Reports
Brewer taps manufacturing intelligence to enhance its process
Full Sail Brewing Company, an Oregon-based craft brewery, produces three core varieties of beer, along with a number of seasonal and specialty brews. Taking malt, hops and yeast from surrounding local sources in Oregon, Washington and Idaho, Full Sail brews the ingredients with water that originates from a deep, granite well on Mount Hood. The results are beers with a signature taste—and small environmental footprint.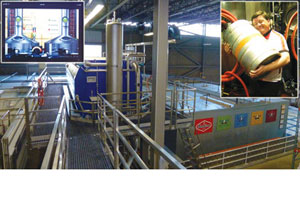 Full Sail's new mash filtration system uses Rockwell Automation's FactoryTalk software suite and dashboards (upper left inset) to provide real-time information on the brewing process, and makes Executive Brewmaster James Emmerson (upper right inset) happy with the results. Source: Full Sail Brewing.
The company's efficiency and potential profitability were being hampered by its traditional brewing process. Like nearly all craft brewers, Full Sail used a manual brewing vessel, a lauter tun, to filter the slushy mash of water and crushed grain that forms the foundation of beer.

From 2005 to 2010, Full Sail increased production by more than 15 percent annually. However, the brewer realized that not only would future production demands strain its manual mash filtration system, efforts to increase efficiency, cut costs and further improve quality were limited by the existing system.

The old mash filtration system required continuous, manual data testing and reporting. In addition, the lauter tun's spent grain, a byproduct the company sold as livestock feed, contained 82 percent moisture content. That meant valuable liquid was going out the door with the byproduct. At the same time, transporting the heavy waste was expensive. The company essentially paid farmers to take the spent grain off its hands.

Full Sail decided to upgrade its manual lauter tun to a fully automated, networked mash filtration system. The brewer brought in Aurora Industrial Automation (Portland, OR) to design and implement the new system. Aurora implemented a Rockwell Automation-based control and information solution that enables the brewer to apply a manufacturing intelligence strategy across its operations.

The new mash filtration system leverages Rockwell Automation's PlantPAx process automation system and PlantPAx Logix Batch and Sequence Manager. The system allows Full Sail to configure sequences directly into an Allen-Bradley ControlLogix controller through FactoryTalk View HMI software.

To gain insight into the new system, Aurora implemented a manufacturing intelligence strategy based on FactoryTalk. Through an EtherNet/IP network, FactoryTalk Historian software identifies and gathers data tags directly from the control system for real-time, granular production data. With more than 60 steps in the filtration process, the mash filter produces copious amounts of data. The mash filter and software can pull up to 250 data tags. Full Sail uses FactoryTalk VantagePoint software to aggregate this data into pre-determined dashboards. The dashboards provide role-appropriate, real-time key performance indicators to improve operations.

"We make about 20 varieties of beer," says James Emmerson, Full Sail executive brewmaster. "Now brewers of each batch benefit from the information available from the previous brew, whether a variety was brewed yesterday or last year. The brewers can now go back and see the exact metrics that produced a successful batch and optimize the new brew based on that information."

With the new control system, brewing capacity has increased by 25 percent, plus the time of each brew cycle has been cut by almost half, now that operators can optimize their brew process of ongoing brews in real time. Full Sail has also been able to cut raw material costs by 5 percent annually. In addition, the brewer has been able to remove much more moisture from the spent barley grain, and the byproduct is now sold at a profit. Full Sail expects to decrease water use by one million gallons annually, helping to augment its sustainability goals.

After investing $1 million in the new system, Full Sail expects a full ROI in three years. And that's on savings from raw materials and spent grain hauling costs alone.

"Our brewers no longer have to spend their time manually testing, tracking and re-entering data," says Emmerson. "Now that the system tracks and records metrics, brewers are able to spend more time focused on how to improve and optimize each brew. But even more importantly, we have manufacturing intelligence—giving us actionable data and reporting resources, literally at our fingertips at all times."

For more information:
Fred Bossard, Aurora Industrial Automation, 503-206-5150, freddyb@aurora-ia.com








I want to hear from you. Tell me how we can improve.