Case Studies & Field Reports
Steeped in tradition with modern sensibilities
With more than 34 years in the herbal supplement arena, Traditional Medicinals has combined the ancient art of traditional formulating with modern scientific methods of quality assurance and production, and remains dedicated to preserving earth's natural resources, both human and natural.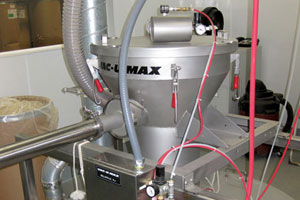 This Vac-U-Max conveying system moves delicate tea blends through Traditional Medicinals' plant without any damage. It also doesn't break the backs of blenders who used to lift heavy sacks. Source: Vac-U-Max.
The facility operates 20 hours a day, four days per week, to produce 2 million teabags weekly. Raw materials brought in from around the world in tea-cut form are re-inspected and repackaged into barrel containers to feed into the blenders via a hopper system. Once the formulas are blended, they are transferred to the packaging area where they are gravity fed from a mezzanine to IMA Industries packaging machines that process between 135 and 185 teabags per minute.

While working on a major efficiency project, culminating in the building of new rooms for the blending area, Mary Goff, plant manager, also wanted "to cut down the amount of lifting the operators were doing manually in our production department."

The operators were weighing individual 100-pound batches into barrels, taking the barrels up to the top level and then dumping them manually into hoppers. In search of a better method, Traditional Medicinal's vice president of quality control and its site manager researched open conveyor systems as an ergonomic solution for transferring the raw materials.

Traditional Medicinals uses pharmacopoeial-grade herbs, and one of its biggest concerns was how to transfer the herbs and blends from one area to another without breaking down the product or losing any of it. "We did a lot of studies up front," says Goff of choosing the right systems to transfer ingredients. "We spoke with some of our raw materials vendors about the systems they used to transfer materials, and a gentleman from the consulting firm we were working with on the efficiency project told us about Vac-U-Max."

Vac-U-Max specializes in the design and manufacture of pneumatic systems and support equipment for the conveying, weighing and batching of dry materials. Although the advantages of the pneumatic system, in theory, seemed to outweigh the open systems, the processor needed assurance the vacuum system would perform reliably without breaking down product.

The supplier provided free testing at its test facility. "One of our biggest concerns was the breakdown of the materials themselves, and that's one of the negatives we kept hearing from our herb suppliers. But Vac-U-Max assured us that wouldn't happen, and they've proven that [the system] is a very gentle way to move product," says Goff.

When the new blending area was finished, the pneumatic conveyor system was implemented into the process where raw materials are brought in and taken to a second level where they are run through magnets and then scaled into a barrel. The conveyor transfers the product up to another room where the system performs as the hopper feed for the blender itself.

"The system has eliminated all the forklift traffic, and from an ergonomic standpoint, it's saving a lot of wear and tear on our blenders' backs," says Goff.

In addition to creating a better ergonomic environment for the operators, Goff says, "Our system is more efficient, too. I am predicting that we'll be able to improve capacity by 20 percent."

When running three or four blends a day, ease of cleaning quickly becomes an efficiency point when sanitation between runs is required. For this application, the system has a food-grade polished surface for effortless cleaning and product flow; all Vac-U-Max systems are equipped with heavy-duty clamps that enable quick disassembly without tools. "It is very easy to take it apart. We're taking it apart three to four times a day, and we change the filter between each blend," adds Goff.

"Vac-U-Max was very helpful and spent time to make sure the system worked for us," says Goff. "With the pneumatic system, transferring the materials is a lot quicker, and we expect that it will work well when we bring in a higher capacity machine later this year."

For more information:
Doan Pendleton, 800-822-8629, sales@vac-u-max.net




I want to hear from you. Tell me how we can improve.