New Products
Technology Sourcebook
Collars & couplings
Capable of resisting harsh chemicals, solvents, detergents and salt water, Stafford 316 stainless steel shaft collars and rigid shaft couplings come in 1- and 2-piece and set-screw styles with 18-8 or 316 stainless steel fasteners plus a variety of bore configurations. The collars are available in 1/4- to 10-in. I.D. sizes; the couplings come in 1/4- to 3-in. sizes. Suitable for use in conveyors, drive systems, machinery, and mixing and packaging equipment, the collars can be supplied with smooth or threaded round, square and hex bores; the couplings can include straight and stepped bores.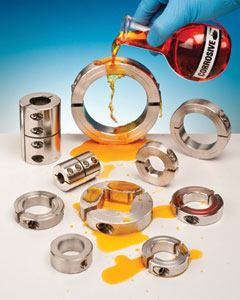 Stafford Manufacturing Corporation; 800-695-5551; www.staffordmfg.com


I want to hear from you. Tell me how we can improve.