Packaging
Kraft says 'yes' to flex
Seven years of door-pounding paid off this year for Smart Bottle Inc. when Kraft Foods rolled out the first significant food application of its stand-up flexible pouch: the Yes Pack, a one-gallon dollop of salad dressing for foodservice operators.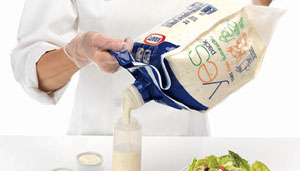 Although rigid plastic containers still are available, many foodservice operators are expected to opt for the Yes Pack, Kraft's version of the Smart Bottle. Source: Kraft Foods Inc. Windshield solvent and one-off promotions have used the Smart Bottle stand-up pouch, but Kraft's application is the container's first significant foodservice deployment. Source: Smart Bottle Inc.
"We had done windshield fluid and small-order jobs" in Smart Bottles, says Ken Wilkes, president of Asheville, NC-based Smart Bottle, but until Kraft introduced the Yes Pack, American companies viewed the pouch as too Euro-looking, despite flexible's supply chain advantages and material use efficiencies. Kraft spent three years developing the foodservice pouch and dedicates a web page to explaining its benefits (www.kraftyespack.com). Wilkes expects club stores to be the pouch's next destination. "They'll have 40 percent more dollars on the shelf," he says, referring to the storage efficiency of the container's cubed shape, "and they love that."

Instead of ordering a box of four one-gallon HDPE containers, cartons with two one-gallon flexible pouches are now offered. Besides the pouch's ordering flexibility and environmental advantages, Kraft's promotional materials point out the bag delivers better yield and simplified waste management. For now, dressings in rigid plastic remain an option.

Kraft refers to the flexible foodservice pouch as the 2/1 GL format, and only the eight most popular dressings are available in it currently. Additional varieties of dressings will be offered in the 2/1 GL format later this year.

Wilkes also is the proprietor of nearby KRW Converting, where the containers are formed and printed. Manufacturers can opt for a plain Smart Bottle, "but then you lose the superior graphics of 10-color printing," he observes, adding, "labeling machines are always the most breakdown-prone point in a packaging line." Those breakdowns are eliminated with a preprinted pouch.

The pouch ships flat and has gussets in the bottom four corners. It weighs half as much as a comparably sized PET container, Wilkes says, and requires half as much energy to fabricate as a comparable HDPE container.

For more information:

Ken Wilkes, Smart Bottle Inc., 828-348-0292,

ken@krwconverting.com














I want to hear from you. Tell me how we can improve.